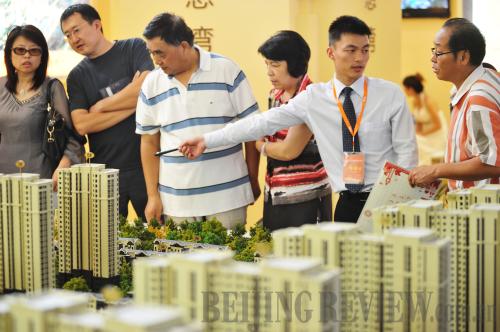 HOT MARKET: Potential home buyers browse property models at the 2013 Beijing Real Estate Trade Fair on September 21 (CFP)
Selling season is in full swing in China's real estate market. According to statistics from China Index Academy, the research arm of Soufun, China's largest property website, the average price of new homes in 100 major Chinese cities rose 1.07 percent in September month to month and 9.48 percent year on year. First-tier cities like Beijing, Shanghai and Guangzhou witnessed a sales boom as well as a price surge of more than 20 percent.
Unexpectedly, despite the strong demand, a large number of banks have ceased to issue home mortgage loans during this period, traditionally September and October, arguing that credit lines have been exhausted. Other banks have opted to call off favorable interest rates or boost interest rates and have extended the approval procedure for home mortgage loans.
Real estate developers, local governments and banks are responsible for igniting China's booming real estate market. The bank's reluctance to issue new loans has stirred doubt over whether the country's real estate bubble is about to burst.
Plenty of quiet
Ping An Bank Co. Ltd. has called a halt to home loans, while Industrial Bank and Bank of Communications said their Beijing branches have increased benchmark interest rates of a home loan by 10 percent, and that of a loan for a second home by 20 percent or even more. In addition, borrowers have to wait one month or 45 days to get a commercial loan, rather than the past time frame of 10 to 15 working days.
What makes banks so dispirited about issuing mortgages? Blame declining profits and mounting risks.
Since home loans are entitled to enjoy a "30-percent off" preferential policy, they are less attractive to banks. Furthermore, an increasing number of house owners have stopped repaying their loans and a number of "ghost towns" have sprung up across China, intensifying the banks' concerns. In Wenzhou of east China's Zhejiang Province, a city with China's most developed private economy, some house owners have simply abandoned their homes to escape repaying their loans. Housing prices in the city have been on the decline for two consecutive years. Prices for some newly built residential buildings have even dropped by 40 percent. For some borrowers, their bank loans have exceeded the actual value of their homes.
At the same time, the increase of ghost towns like Ordos in Inner Mongolia Autonomous Region, a city known for excessive supply in real estate, add to the credit risk faced by banks.
In some sense, the risks from housing bubbles seem to have come into reality, which spurring banks to be more cautious about home loans.