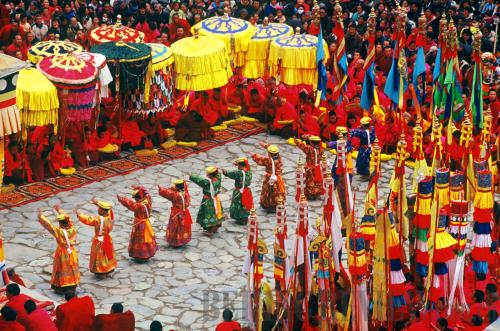 HONORING THE FOUNDER: A prayer meeting in honor of the first living Buddha of Labrang Monastery in Gannan, which is held in the second month of the Tibetan calendar every year (ZHAO JINLONG)
Gannan Tibetan Autonomous Prefecture in northwest China's Gansu Province is situated at the northeastern edge of the Qinghai-Tibet Plateau.
Although the majority of local population is Tibetan, Gannan is also home to a further 23 ethnic groups including the Han, Hui, Tu and Mongol peoples.
Since the establishment of autonomous authorities in Gannan on October 1, 1953, the life of people in this area has gone through rapid changes over the six decades between then and now.
A better life
During the past few years, the Central Government has increased support to areas inhabited mostly by ethnic minority groups. The policies and programs that ensure this support have brought changes to the lifestyles of the nomadic people who have lived in Gannan for generations.
Tibetan herders have bid farewell to their centuries-old nomadic lifestyles, thanks to a government-sponsored settlement program. They live in concrete homes in settlements across the region.
The 39-year-old Sangcai chose to settle beside a pasture in Nyima Township, Maqu County. Four years ago, he lived a nomadic life in a village about 120 km away from the settlement he now resides in. He said that he's never regretted his decision.
The reason that drove Sangcai to make a lifestyle change is better education for his two children. "Now I can expect them to receive higher education one day and live an even better life," he said.
Sangcai said that a settled life has brought many benefits to his family. His children now receive free education and he and the rest of his family can get medical care more conveniently, with most expenses covered by a rural medical insurance scheme.
"The local government distributes a subsistence allowance to my family every month, which would never have been possible if I still lived as a herder," he said.
Sangcai's settlement is home to 545 families and each lives in a 62-square-meter home provided by the government, which has tap water, electricity and cable TV access.
Xu Yongquan, Deputy Director of the Publicity Department of the Communist Party of China Gannan Committee, said that 17,238 nomadic families in Gannan totaling nearly 95,000 people have settled and their lives have changed forever.
In 2012, the per-capita disposable income of urban residents in Gannan reached 13,970 yuan ($2,281) and rural residents' per-capita net income was 3,610 yuan ($590), resulting in the reduction of the number of Gannan residents below the poverty line by 36.75 percent.
Since the beginning of 2010, the government of Gannan has invested generously in improving housing for farmers, settled herders and low-income urban residents. The government raised the subsistence allowance given out and managed to achieve universal coverage of medical and pension insurance for the locals.