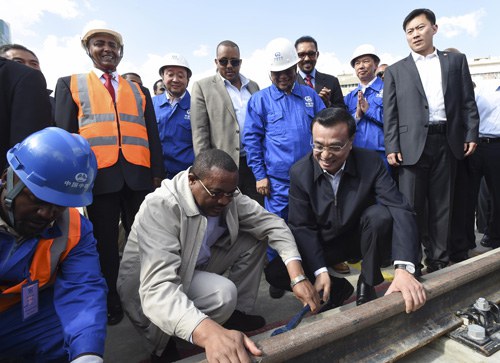 INFRASTRUCTUAL COOPERATION: Chinese Premier Li Keqiang and Ethiopian Prime Minister Hailemariam Desalegn tighten a bolt during a visit to a light railway project in Addis Ababa, Ethiopia, on May 5 (LI XUEREN)
China and African countries have made progress in infrastructural construction, especially in railway projects. China is ready to expand cooperation with Africa in building roads, railways, telecommunications, power grids and other infrastructure so as to help the continent achieve regional interconnection, the Chinese premier said in his speech, adding that Beijing also encourages Chinese enterprises to form joint ventures with African counterparts in a bid to improve Africa's regional aviation industry. During Premier Li's visit, China and Nigeria agreed on a coastal railway project worth $13.12 billion. The coastal railway will be of great strategic significance in promoting the economic development of the whole of West Africa and building a coastal economic corridor in the region.
The premier also depicted a vision of connecting African capitals with high-speed rail, saying that China is willing to use its world-leading technologies in this area to improve pan-African communication and development.
Nowadays, China has become a major railway equipment provider to Africa. Unlike previous assistance projects, today's railway construction ventures in Africa are mostly realized through commercial cooperation, which is targeted at greatly increasing African countries' level of technical proficiency through reciprocity. By 2013, China had built about 2,200 km of railways and 3,500 km of roads in Africa.
Professor Yuan said that the building of joint ventures is an excellent way to promote Africa's self-sufficiency after adopting China's technology. This is a new cooperative mode, he said, as China's successful experience in building high-speed rail offers a vast continent like Africa the infrastructural technologies of which it is in urgent demand.
Traditional assistance projects will continue at the same time. Premier Li announced during his trip that China has decided to increase its loans for African countries by $10 billion, which brings the total pledged amount to $30 billion, and to expand the China-Africa development fund by $2 billion to $5 billion. Moreover, to help reduce poverty, China will train 2,000 agricultural technicians and management personnel for Africa in the coming five years, tilting its assistance toward such welfare areas as drinking water and prevention and control of epidemics.
The Chinese premier also emphasized the importance of cultural and people-to-people exchanges during his visit. In regards to people-to-people exchanges, he said China will carry out its "African talent plan" and will provide African countries with 18,000 government scholarships and help them train 30,000 various professionals. He also declared that China will offer South Sudan another 50 million yuan ($8 million) of humanitarian aid to help deal with their humanitarian crisis.
Premier Li praised Africa's encouraging contributions to the world civilization and economy. Now a land full of vigor, Africa has reshaped itself into an important pole in world politics, a new pole in global economic growth and a colorful pole in human civilization, he said in his speech.
"African civilization, as an important part of a pluralistic global village, is worthy of our undivided attention," Yang said.
Email us at: dingying@bjreview.com
The 4-6-1 Mode Between China and Africa
Visiting Chinese Premier Li Keqiang delivered a speech on May 5 in the Africa Union Headquarters Center in Addis Ababa, Ethiopia, proposing a new 4-6-1 cooperative mode between China and Africa. This mode includes:
Four principles: To further consolidate bilateral cooperation, the two sides uphold the four principles of treating each other sincerely and equally; consolidating solidarity and mutual trust; jointly pursuing inclusive development; and promoting innovation in bilateral practical cooperation.
Six key areas: Six areas—industry, finance, poverty reduction, ecological protection, people-to-people exchanges, and peace and security—have been identified for the two sides to make the leap forward.
One platform: As the Forum on China-Africa Cooperation serves as an important platform for deepening bilateral relations, joint efforts should be made to turn it into a more pragmatic and efficient mechanism.