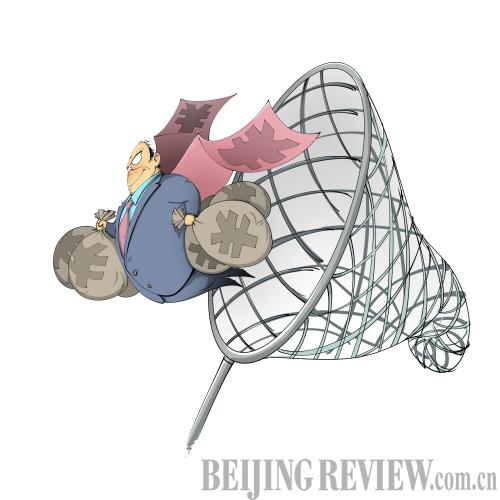 (CFP)
China will enhance cooperation with the international community to capture those who fled in fear of being investigated for corruption, according to Cao Jianming, Procurator General of the Supreme People's Procuratorate, who made the remarks in a work report to this year's full session of the National People's Congress, China's top legislature, on March 10.
"Preventing suspects from fleeing the country and tracing those who have escaped are important measures for prosecutors when fighting graft," Cao said. "For example, those who are suspected of duty-related crimes and potentially attempting to flee abroad will be banned from leaving China quickly, and supervision of officials will be tightened."
Duty-related crimes generally refer to offering and taking bribes and dereliction of duty. In China, procuratorial organs handle the investigation and prosecution of such crimes.
Cao said that prosecutors will work with judicial organs abroad to expand channels for tracking down those who have fled and to recover their ill-gotten gains.
Authorities will also start procedures to confiscate illegal assets of fugitives abroad. "Once evidence is sufficient, we'll initiate confiscation procedures according to law," Cao said.
Fleeing the country
On May 28, 2013, Cai Daoming, former Director of the Animal Husbandry and Veterinary Bureau in Gong'an County, central China's Hubei Province, left his office during a lunch break and never returned.
A month later, after failing to find any trace of him, the county decided to remove Cai from his position. Investigations into his whereabouts have failed to uncover any solid leads, and Internet users have been quick to speculate that Cai was involved in corrupt activities.
Similarly, Wang Yanwei, Chairman of the Huadu District Committee of the Chinese People's Political Consultative Conference in Guangzhou, south China's Guangdong Province, a local advisory body, asked for sick leave on June 3 last year and disappeared promptly.
Many officials involved in economic crimes, especially those involving large amounts of assets, have gone missing abroad. To make matters worse, the number of fugitives will likely increase as anti-corruption efforts intensify, according to a report issued by the Chinese Academy of Social Sciences in February.
Figures from the Supreme People's Procuratorate show that money seized from fleeing officials increased fourfold from the 22.48 billion yuan ($3.59 billion) reclaimed in 2007 to 102.09 billion yuan ($16.31 billion) in 2012.
A previous report from the Chinese Academy of Social Sciences revealed that about 18,000 Chinese officials fled the country between 1995 and 2008, smuggling assets worth 800 billion yuan ($127.84 billion) with them.
Experts argue that the figure is actually only a small fraction of the absconded capital. Li Chengyan, Director of the Research Center for Clean Government Construction at Peking University, estimates that there are about 10,000 Chinese officials at large overseas with illegal assets worth more than 1 trillion yuan ($159.8 billion).
Countries that are most favored among fleeing officials include the United States, Australia and Canada. Some Central American countries and island countries in the Pacific are also used as sanctuaries by corrupt officials.
In January, the Central Commission for Discipline Inspection of the Communist Party of China pledged to wage a systematic campaign against officials who flee overseas. This has included new regulations that block "naked officials" from promotion.
Naked officials is a term that has been coined to refer to civil servants whose spouses or children have migrated overseas and are therefore most likely to be the potential recipients of illicit funds from within China. These officials usually use their foreign family connections to illegally transfer assets or avoid investigations.
International barriers
In September last year, Gao Shan, a fugitive in a financial fraud case who surrendered to the police in 2012, stood trial with six other suspects at a court in northeast China's Heilongjiang Province.
Gao, former head of a branch of the Bank of China in Harbin, capital of Heilongjiang, was charged with collaborating with the other suspects on planning and executing a fraud between 2000 and 2004, which led to a loss of 1 billion yuan ($159.8 million).