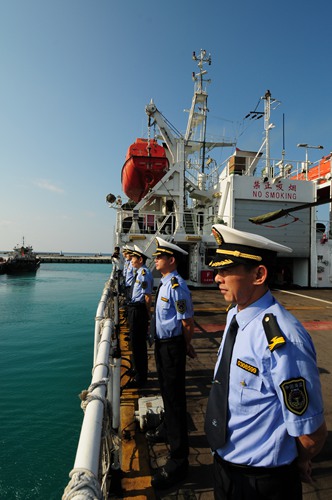 SURVEILLANCE OVER WATERS: A Chinese ocean surveillance ship departs from Yongxing Island, the largest of the Xisha Islands, for a patrol mission on March 10, 2013 (WEI HUA)
China demanded Viet Nam "withdraw its vessels and personnel immediately" from waters near the Chinese oil-drilling site in the South China Sea on June 3. "The Vietnamese are raising tensions in Chinese waters, a violation of international law and the basic rules of international relations," Foreign Ministry spokesman Hong Lei said that day in Beijing.
Hong said China has consistently asked Viet Nam to stop its use of force against the regular operations of China's oil drilling platform in waters close to the Xisha Islands and to stop infringing on China's sovereignty, rights and interests as well as jurisdiction.
Li Guoqiang, a researcher on China's neighborhood studies with the Chinese Academy of Social Sciences, pointed out the riots and attacks against foreign enterprises not only damaged China-Viet Nam relations, but also hurt Viet Nam's economic interests.
The economic relationship between China and Viet Nam has become valuable. China has been Viet Nam's top trade partner during recent 10 years. According to statistics from Viet Nam, bilateral trade reached $50.2 billion in 2013, about 15 percent of Viet Nam's total foreign trade. According to Chinese data, the trade volume of last year was $65.48 billion, about 24.85 percent of Viet Nam's total. Over 7.57 million foreigners visited Viet Nam last year, about a quarter of whom were Chinese. By March 2013, China had invested over $7.6 billion in Viet Nam. According to a joint statement issued on October 15, 2013, during Chinese Premier Li Keqiang's visit, the two neighbors agreed to increase bilateral trade to $100 billion in 2017.
Chen brought up the fact that China and Viet Nam signed an agreement in 2011, promising to advance maritime cooperation in less sensitive fields, seek steady progress in negotiations regarding the maritime demarcation of the bay mouth of Beibu Gulf and discuss the joint development of the sea area. In 2013, the two countries pledged to set up a working group to explore the joint development of disputed waters. "Obviously, Viet Nam has completely betrayed its commitments," said Chen.
Truth About Xisha Islands
The Xisha Islands have been China's inherent territory since ancient times. China discovered the Xisha Islands when they explored in the South China Sea during the Han Dynasty (206 B.C.- A.D. 220). Historical documents prove that the Chinese had fished and traded around the Xisha Islands during the Song (960-1279), Yuan (1271-1368), Ming (1368-1644) and Qing (1644-1911) dynasties, which serves as proof of China's right to jurisdiction over the area.
During the Song Dynasty, the imperial court organized a naval squad, whose regular patrols in the South China Sea established China's jurisdiction over the Xisha Islands. During the Yuan Dynasty, an observatory was set up on the Xisha Islands. Afterward, the Ming and Qing dynasties both put the South China Sea islands and its adjacent waters under their jurisdiction, and since then it has become a common practice for China's naval forces to make inspection tours for coastal defense and exercise sovereignty over them. China has continued exercising its sovereignty over the Xisha Islands since the founding of the People's Republic of China in 1949.
Viet Nam had no argument against China's sovereignty over the islands until the mid-1970s. In 1956, Vice Minister Dung Van Khiem of the Democratic Republic of Viet Nam admitted that "according to Vietnamese data, the Xisha and Nansha Islands are historically part of Chinese territory." In September 1958, Vietnamese Premier Pham Van Dong recognized China's sovereignty over the Xisha Islands and the Nansha Islands in the South China Sea in a diplomatic note to Chinese Premier Zhou Enlai.
(Source: China Daily)
Email us at: dingying@bjreview.com