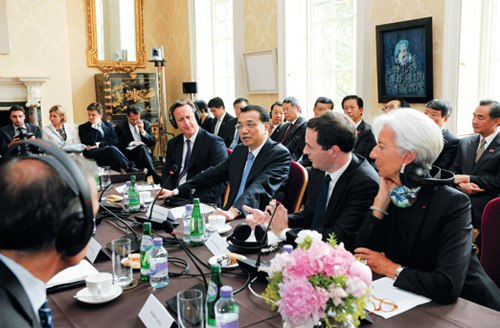 TRADING IDEAS: Chinese Premier Li Keqiang and British Prime Minister David Cameron attend the China-UK Global Economic Roundtable in London, Britain, on June 17 (CNSPHOTO)
In addition to deepening cooperation in multiple fields, Chinese Premier Li Keqiang stressed that his latest visit to Britain intended to overcome obstacles in the two countries' relations and to learn from the industrial pioneer, displaying both his sincerity and modesty as a leader.
It was Premier Li's first visit to Britain since he took office in March last year. In an article carried by The Times newspaper prior to his trip, Li described his visit as having a threefold purpose: "first, to discuss ways to deepen cooperation in various fields and therefore spur the growth of our respective economies; second, to present the real China so as to change misperceptions and ease misgivings; and third, to draw on British perspectives and experience."
The visit, the first by a Chinese premier in three years that promised a slew of cooperative projects, carried a significant weight. It indicated that the two sides have managed to ride out a rough patch in their relationship and put bilateral interaction back on the right track. However, Li's appeal for clearing away obstacles to bilateral relations also shows that misunderstandings persist between the two despite China's show of great sincerity.
Changing misperceptions
Since David Cameron of the Conservative Party entered 10 Downing Street, China-Britain relations have seen their ups and downs. Cameron's first visit to China, shortly after taking office in 2010, brought a new culmination of the relationship. But bilateral ties took a nosedive in May 2012 when Cameron insisted on meeting the Dalai Lama in spite of China's objections.
It wasn't until more than a year and a half later that the icy bilateral relationship began to thaw when Cameron visited China in late 2013.
Cui Hongjian, Director of the Department for European Studies at the China Institute of International Studies (CIIS), said British society and some British politicians have misconceptions about China's human rights record and the Tibet issue. Their comments on these matters have added detrimental elements to the China-Britain relationship.
"As Premier Li said in his article, his trip sought to present the true China to Britain, showing China's real development status and the complex development of such a big country," Cui said to Beijing Review. "Thus, far-sighted people in Britain can learn about the real China for the sake of greater consensus and better cooperation."
In his article for The Times, Li also stressed that China still lags behind the West in many areas and has much to learn on its long and arduous quest for modernization, although the country did achieve a "quantum leap" in its development in the past 30 years.
However, it would not be an easy job to change people's prejudice given the long-existed superiority mentality within their minds as well as the domestic political needs of some politicians in these Western countries.
In April, the British Government once again released a report which made biased and irresponsible remarks to blemish China's human rights record. And before Li set foot in Britain, British Deputy Prime Minister Nick Clegg claimed he would be "more than honored" to meet the Dalai Lama again, accusing China of "systematic human rights abuses."
Cui noted that some politicians might gain domestic popularity through thoughtless remarks on China, "but as it involves their country's foreign affairs, politicians need to be cautious. Once the irresponsible remarks hurt bilateral relations, they will eventually damage the national interests of their country."
"Better mutual understanding brings vigor for bilateral ties while misunderstanding results in obstacles. China is showing its sincerity as Premier Li did during the visit," Cui added.
Another truth about China that Premier Li wants to present to the world including Britain, Cui said, is China's current economic situation.
In his article, Li expressed confidence that China can meet its official 7.5-percent GDP growth target this year and declared to maintain the course on market-orientated reform. During a speech to Chatham House and the International Institute for Strategic Studies, two prestigious British think tanks, Li further stressed that China's economy would not suffer a hard landing and would continue to grow at a medium to high pace in the long term without strong stimulus.