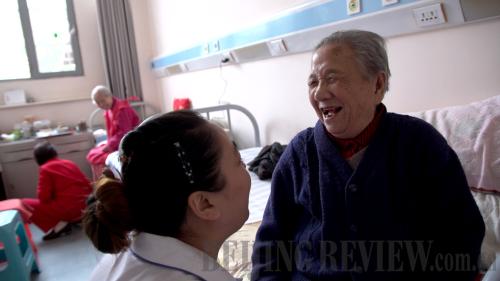 LOVE AND LAUGH: Dong Wei, head nurse of the Songtang Hospice, talks with a resident on April 27 (YUAN YUAN)
Li Wei starts all of his college lectures with the same statement, "I have good news for you. You will die in less than 20,000 days."
As the founder and president of China's first palliative care facility—the Songtang Hospice in Beijing—Li has worked in terminal care for almost 30 years. Death, a taboo subject in China, is something he comes face to face with on a daily basis.
"Normally the students are shocked to hear this. It seems that they never thought about death at their age," Li said.
Li's figure 20,000 comes from the average life span in China, which was 75 in 2013. "We place too much importance on birth but avoid talking about death," Li said. "This creates an illusion that we have plenty of time."
Social womb
In 1987, Li founded the Songtang Hospice, which had only six beds when it first opened.
The first resident of Songtang was one of Li's neighbors, who was suffering from breast cancer.
"Her family members were all busy at work and couldn't spare enough time to take care of her," Li recalled. "Coming to the hospice was their last resort but I finally convinced them to give it a try."
It turned out to be the right decision for the family. Li was able to keep his dying neighbor company and take care of her during her last days. Her family were thankful for Li and the help he provided.
"Tradition would have us keep family members at home, especially our elders," Li said. "If an old person is sent to a hospice, his or her children will be scolded as not being filial enough, which is a very serious accusation in China. As China becomes an aging society, relying only on young people for looking after seniors is not realistic."
For Zhu Lin, Vice President of Songtang, a hospice is not a hospital, nor a care home. It combines the functions of the two.
"A hospice provides both medical and psychological support to alleviate the suffering of its residents and 24-hour care is provided by medical staff in addition to this," Zhu said.
Since the 1990s, Li began his academic studies on the subject of terminal care. After collecting hundreds of cases from Songtang and several hospitals, Li concluded that the average length of time left after a person contracts a terminal illness is 280 days.
"I was surprised to find this result was so similar to the length of time a child spends in the womb before birth," said Li, who developed the concept of the "social womb" based on his research.
"Before we are born, we stay in our mother's womb. Before we pass away, we need to stay in the womb of society. Society needs to take care of the terminally ill," Li said.
For Dong Wei, the head nurse at the Songtang Hospice, she sees seniors as like children and the hospice like a kindergarten.
"The hospice cares for several hundred people, either seniors or people with a terminal illness," said Dong. "Every day I go to every ward and say hello to everyone. If I arrive late or don't show up, some of the residents will get angry and refuse to talk to me until I apologize."
Dong has worked in Songtang for more than 10 years. For her, the job is very emotionally demanding, but also rewarding. "The average age of the residents here is about 84," Dong said. "Each of them is like a history book, recording China's history for the past 80 or 90 years."
"Oh my God, you look so pretty today!" Dong often greets an old lady surnamed Wang in this way, going on to ask her, "How old are you?"
"I am 18! And I will be 17 next year!" Wang replied with a big smile, bearing a single tooth.
A 93-year-old woman surnamed Jin has been at the hospice for several years. She comes from a noble family in the Qing Dynasty (1644-1911). Every time when Dong or volunteers visit her, they bow to her as would have been courteous during the Qing Dynasty. No matter how unhappy she was, the woman always cheered up after the bow, according to Dong.
"I love them so much," Dong said. "What they need is company. They spent their prime working hard and left almost everything to their children. The support they need is more psychological than financial."
A 65-year-old man surnamed Wang has stayed at Songtang for more than a year. He was a team leader before retirement but being unable to work made him distant and unresponsive. He used to stare at the wall in silence. Dong and her coworkers decided to give him some work to do.