According to the commission's projection, at the end of 2015, the city will have about 540,000 children who need pre-school education and about 870,000 children reaching school age, while the enrollment capacity of the city's kindergartens and primary schools will be 538,800 and 874,000, respectively.
The public health system is also making preparations. After the adjustment of the family planning policy, demand for obstetrical and pediatric services will increase significantly, especially in large cities, said NHFPC Vice Minister Wang Guoqiang at a national meeting on women and children's health held on April 17.
Wang Guoqiang said that approximately 80 percent of the 2 million additional newborns will be in cities, particularly large and medium-sized ones, which will add pressure to urban medical institutions.
Yue Hongni, Vice President of the Huaian City Maternal and Child Health Hospital in Jiangsu Province, already feels the pressure. She said that obstetrical and pediatric departments experience higher instances of doctor-patient disputes and medical accidents, so many doctors are reluctant to work there, and current medical resources in these departments cannot meet the increasing demand.
For instance, Huainan needs about 2,400 hospital beds for children, yet the city currently has only 933 such beds, Yue said.
Many women eligible for a second child are already at advanced maternal age, and face a higher risk of childbirth complications and their children face a higher risk of birth defects, Wang Guoqiang said.
He said that local governments should increase the capacity of maternal and child health services, and improve service quality.
Email us at: wanghairong@bjreview.com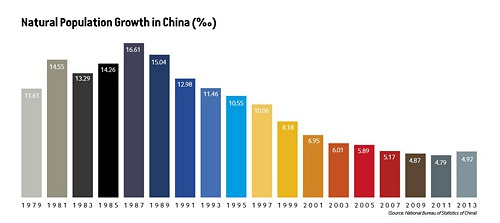 Policy Change
China introduced the family planning policy in the 1970s to curb population growth.
In the 1950s and 60s, China's population exploded due to a rapid drop in mortality rate and a higher birth rate, according to Zhai Zhenwu, a sociology professor at the Beijing-based Renmin University of China and Vice President of the China Population Association.
In the 1960s, China's population was around 600 million, and it grew at an annual net rate of 2.5 percent on average, Zhai said.
Since the early 1980s, most urban couples had been allowed to have only one child while most rural couples were allowed to have two if their firstborn was a girl. In late 2011, couples across the country were given the option of having two children if both of the parents are themselves from one-child families. Last December, the Standing Committee of the National People's Congress decided to further relax birth control measures by allowing families to have a second child so long as at least one of the parents is an only child.
The country's total fertility rate dropped to below the level necessary to keep the population stable in the early 1990s and currently stands at 1.5 to 1.6 per thousand, which is comparable to the average level in developed countries, said Wang Peian, Vice Minister the National Health and Family Planning Commission.
In the meantime, the demographic structure of the country has also changed, and some problems have surfaced.
China's working-age population has already begun to drop. The year 2012 saw a decrease of 2.45 million working age people from the previous year, and after 2023, this group will dwindle by 8 million annually, according to Wang.
Furthermore, the population is quickly aging. In 2013, China had 200 million citizens aged 60 and over, accounting for one seventh of the total population, while by the mid-2030s, the number is expected to reach 400 million, accounting for one quarter of the total population, Wang revealed.
Wang said that recent adjustment to the family planning policy is conducive to maintaining an adequate working-age population, slowing down the aging of the population, and improving families' abilities to resist risk and to provide for the elderly. The policy adjustment will promote long-term balanced population development, he concluded.