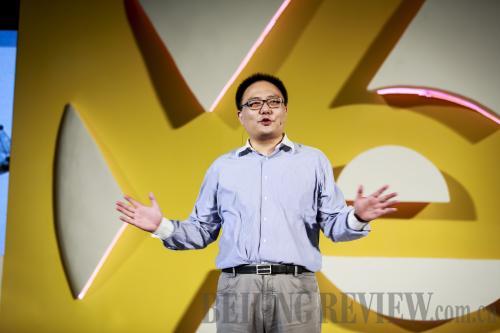 MEDIA BUSINESS: Luo Zhenyu delivers a lecture on running new media outlets in Beijing on May 24, 2013 (CFP)
When Chi Jianqiang, a computer programmer in Beijing, set up his public WeChat account in December 2012, he never thought he would be making a book out of it within a year.
Chi's account, MacTalk, mainly shares tips for using the Apple company's MacBooks, and information on new software scheduled for launch by the same company. Sometimes he also shares stories about his co-workers to "illustrate a true picture of computer programmers." With its light and humorous tone, his account attracted around 10,000 followers in only a few months.
Among Chi's followers, there are quite few from publishing houses, who suggested he publish a book based on the content of the account.
"It was quite a surprise," Chi said. "Releasing a book seemed to be a big thing that I had only dreamed of before."
Launched by the leading Chinese Internet firm Tencent in January 2011, WeChat first served as a mobile text and voice messaging communication service and quickly gained huge popularity. Its registered users exceeded 100 million in March 2012. When Tencent rolled out their public account service on WeChat in August of the same year, anyone already using the service could set up his or her own media outlet and share information with their followers. "My brand, viewed by over 100 million people" was the slogan used by Tencent to advertise it.
According to Zhang Ying, Deputy Manager of WeChat's product development department, the mobile app had 270 million active users and more than 2 million public accounts as of November 2013.
Pioneers
Wen De, better known by his screen name Guijiaoqi online, is former technical director of Taobao, China's largest C2C online marketplace. His public WeChat account was launched on January 3, 2013, and its followers exceeded 60,000 within just three months.
Wen attributed this to his content, as his account shares suggestions and tips for selling and buying things on Taobao. "As almost everybody shops on Taobao, this content is very interesting," Wen said.
In July 2013, Wen published his first book Just Do It and six months later, his second book Love Life was released. Besides expressing some sharp and professional ideas on e-commerce, Wen also talks about many aspects of life, including job-hunting suggestions for college graduates and dating tips for young people.
On October 27, 2013, Wen quit his job at Taobao to work full time on his public WeChat account. The number of followers he has now surpasses 200,000.
By the time Wen decided to become a full-time new media producer, Cheng Lingfeng, former Director of the Tech Center of Tencent's Internet Portal Department, had been indulging in this career for more than one year. On August 29, 2012, Cheng declared on his microblog that he was going to quit his job at Tencent and work on his new media product Cloud Technology, which is accessible on WeChat and several other news-reading mobile apps.
On January 28, 2013, Cheng started to sell advertisements on Cloud Technology at the price of 10,000 yuan ($1,610) for each day. In the first three months, he earned 200,000 yuan ($32,200) this way.
This was regarded as a big success for new media outlets as many people are not optimistic about their economic profits. "As long as I can make 10,000 yuan every month, it is enough for my life already," said Cheng, who moved from Beijing to a medium-sized city in south China after quitting his job at Tencent.
At that time, Cheng also had another idea for generating an income. "If the followers love the content I share, they can just give as much as they want," Cheng said. "It is kind of like donating to a busker or street artist."
But Cheng didn't really do it until another person turned this possibility into a reality.
Luo Zhenyu, another new media producer, surprised many in 2013 by collecting nearly 10 million yuan ($1.61 million) from his followers within four months under his Love Support campaign.