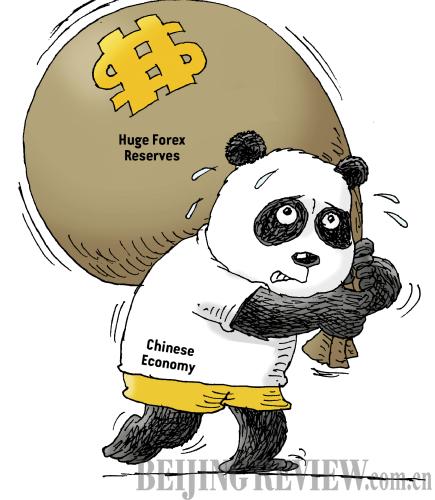 (CFP)
China's foreign exchange (forex) reserves surpassed $2 trillion in April 2009, and a mere five years later, the number doubled by the end of June. This figure accounts for a staggering one third of all forex reserves worldwide.
The colossal size of China's forex reserves has elicited commentary from the country's top leadership. During his visit to Africa in May, Premier Li Keqiang said that the large pool of forex reserves has become quite a serious burden for China since the central bank has to issue home currency to purchase forex, which can stoke inflation.
Analysts think the government should encourage individuals and enterprises to hold onto more foreign currency and invest in foreign markets.
Yuan Gangming, a researcher with the Institute of Economics at the Chinese Academy of Social Sciences, said continual growth in forex reserves is the result of export growth and the introduction of foreign investment.
"China has a trade surplus, bringing in an increasing amount of forex. Moreover, China is continuing to adopt preferential policies to attract foreign investment. All these are favorable outcomes of the reform and opening-up policy," said Yuan.
Maintaining sizeable forex reserves is of great significance for the country, said Huang Guobo, chief economist of the State Administration of Foreign Exchange (SAFE), in an online interview on June 12. During the past decade, large foreign reserves have helped fend off the impact of the global financial crisis, support economic growth, increase employment and raise fiscal revenue and resident income, said Huang.
Tan Yaling, President of the China Forex Investment Research Institute, said maintaining large reserves can help prevent overly speedy appreciation of the renminbi and help safeguard against the prospect of a financial crisis.
"To a developing country, having enough in forex reserves is vitally important. The fact that we were able to withstand the Asian financial crisis in 1997 is because China had large forex reserves," Tan elaborated. "Therefore we should not ignore that maintaining a certain level of forex reserves will help offset financial risks."
Burden to bear
China does need foreign reserves up to a certain level, to conduct international transactions and deal with potential risks, but excessive foreign reserves represent an unendurable burden.
Huang said the rapid growth in forex reserves has intensified difficulties in macro-control, increased inflationary pressure, and restricted the flexibility of monetary policy. What's more, it has created a larger exchange rate risk for the central bank and made the management of forex reserves more difficult.
According to Huang, forex reserves now account for more than 80 percent of the central bank's assets, leading to a mismatch between asset and liability, one which raises forex risks.
During the June 12 online interview, Guan Tao, Director of the Balance of Payments Department of the SAFE, said China had already made it clear that it will not pursue high forex reserves. The proportion of China's current account surplus against GDP dropped from a record high of 10.1 percent in 2007 to 2 percent in 2013, much lower than the internationally recognized standard.