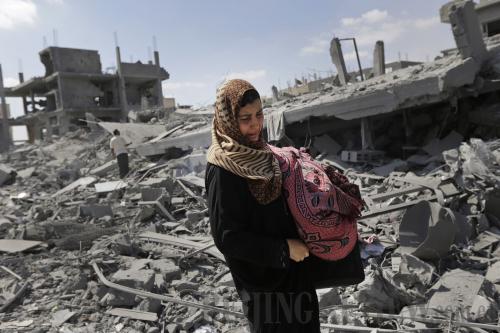 HOMELESS REFUGEE: A Palestinian woman walks through debris in Gaza in the wake of Israeli air strikes on July 26 (XINHUA/AP)
"Air strikes have dealt a heavy blow to Hamas, as Israel cannot bear massive casualties of soldiers in a ground offensive. Time will tell whether Israel's military operation can achieve its objectives," Qin said.
Qin indicated that the ongoing threat of conflict cannot be removed unless Israel and Hamas reach an agreement of reconciliation.
Israel has realized the security dilemma will be a long-term issue. "We must be prepared for a prolonged campaign," Israeli Prime Minister Benjamin Netanyahu said at a press conference on July 28, Xinhua News Agency reported. He insisted on the disarming of Palestinian militants and demilitarization of the Gaza Strip as conditions for reaching a ceasefire agreement.
Political motives
Israel and Hamas have fallen into a vicious cycle of retaliation that may continue until the two sides reach an agreement, said Li Shaoxian, Deputy Director of CICIR and a senior researcher of Middle East issues.
There seems to be a trend wherein conflict breaks out whenever peace talks come to a stalemate, at which point both Hamas and Israel resort to aggression to reach their political goals, Li said.
Months ago, Hamas reached a consensus with its political rival Fatah to found a national united government. Israel certainly would not like to see a united Palestinian government, which could become a strong opponent in the future. For this reason, Israel wants to wipe out Hamas, a dangerous enemy compared with the relatively moderate Fatah, Li said.
Despite its disadvantage in the military arena, Hamas does not appear willing to compromise with Israel. Rather, it hopes to solidify its widespread support and ensure a greater say in a possible unified government through its resistance efforts, Li said.
Ineffective mediation
The deadly conflict and the ensuing humanitarian crisis in Gaza have prompted international calls for a ceasefire, yet neither Israel nor Hamas appears willing to accept the truce proposal currently on the table.
For example, the UN Secretary Council urged Israel and Hamas to renew a ceasefire in Gaza on July 28. U.S. Secretary of State John Kerry began mediation efforts in the Middle East on July 23. Although the United States and Israel are allies, they have differing opinions as to how to settle the conflict, Li said.
China also made mediation efforts. China's special envoy on Middle East Issues Wu Sike visited Palestine, Israel, Saudi Arabia, Jordan, Egypt, Qatar and the headquarters of the Arab League from July 15-25. Wu told a press briefing on July 28 that China will continue to promote a ceasefire agreement in the Gaza Strip.
All parties involved should seek consensus based on this ceasefire treatise. The only way to end the conflict in Gaza is to resume and promote peaceful negotiations, Wu said.
Core Issues Between Israel and Palestine
- Jerusalem, a holy center of the three world religions: Judaism, Christianity and Islam
Israel wishes to make Jerusalem the capital of Israel and the political and religious center of the Jewish people, as it wrote in the 1980 Israeli Basic Law. Currently the holy city is under the control of Israel.
Palestinians want East Jerusalem to be the capital of Palestine. The Old City in East Jerusalem contains a number of holy places in Islam, such as the al-Aqsa Mosque and the Dome of the Rock.
- Borders
Israel has expanded its territory through wars in the decades since 1948. It has agreed to maintain current borders with the West Bank and the Gaza Strip as Palestinian territory, but Israel Defense Forces often enter the two Palestinian areas for military purposes.
Palestinians want Israel to return all land captured in 1967. The West Bank, East Jerusalem and Gaza are integral territories of Palestine.
- Settlements
Israel has established many Israeli settlements in East Jerusalem and the West Bank. To ensure the safety of settlements, Israel has set up tight security checkpoints and built high walls to separate Israeli residences from their Palestinian neighbors.
Palestinians hope for all settlements to be removed, but understand it would be difficult to change the status quo. They have also fought over water resources with Israel for decades.
- Refugees
Israel has prevented Palestinian refugees of previous wars from returning to their former homes in order to maintain a Jewish state.
Palestinians maintain the "right of return" according to UN Security Council resolutions. Furthermore, they refuse to recognize Israel as a "Jewish state" because a large number of Israeli-Arab citizens currently reside in the country.
(Compiled by Beijing Review)
Email us at: baishi@bjreview.com