THE LONG QUEUE: A large number of Apple fans queue in line at the Lujiazui Apple Store in Shanghai on January 13, 2012, wanting to be the first to get the iPhone 4S to be released in the Chinese market (FAN JUN)
With the iPhone, iPad and Mac computer line in its arsenal, Apple Inc. enjoys popularity on a global scale among anyone with two thumbs to text and the desire to stay connected with people around the world.
The worldwide sale of iPhone helped Apple Inc. to exceed LG and ZTE to become the third largest cellphone manufacturer in the world, according to figures provided by International Data Corp. In the fourth quarter last year, Apple sold 37.04 million iPhones, taking 8.7 percent of the global market share.
Behind the curtain of hi-tech gadgets and breathtaking figures are the men and women producing these Apples: low-paid and hard-working Chinese laborers who work round-the-clock shifts and are exposed to numerous health risks to meet production deadlines.
The legions of supply chain employees aside, Chinese manufacturers are also left with scraps compared to Apple's overall annual profits.
On the morning of January 13, the planned release date of the much-anticipated iPhone 4S in China, the Apple store in Beijing's Sanlitun shopping area remained closed after a large crowd amassed outside its doors.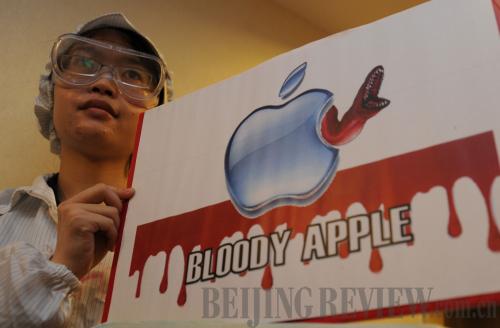 THE PROTEST: A protester from SACOM (Students and Scholars Against Corporate Misbehavior) demonstrate outside the Foxconn annual general meeting in Hong Kong on May 18, 2011 (IC)
Fights eventually broke out among customers anxiously awaiting the new "it" product and a few pelted the store's large glass windows to express their frustration.
Apple underestimated the Chinese demand for the iPhone 4S, said Tim Cook, Apple's current CEO. Bloomberg quoted Cook as saying that "We thought we were betting bold. We didn't bet high enough" on a conference call on January 24 when the company released its first fiscal quarterly report in 2012.
Apple said China has become its fastest growing market with annual sales valued as high as $13 billion.
In 2011, the Chinese fervor for iPhone, iPad and Mac products led to 40,000 daily visits to Apple stores in Beijing and Shanghai.
The company sold 5.6 million iPhones in China in the first nine months last year, making it the fourth largest smartphone vendor in the country in the third quarter, according to Gartner Inc., a Stamford, Connecticut-based research company.
As Apple's second largest market, China contributed $4.5 billion to Apple's revenue in the fourth fiscal quarter of 2011, a staggering year-on-year increase of 270 percent, which accounted for 16 percent of Apple's total quarterly revenue. In sharp contrast, sales in China only accounted for 2 percent of Apple's revenue in 2009.
Despite the Chinese people's craving for the devices, Apple has never attached importance to the Chinese market. China is still categorized as a third or fourth-tier market, along with the British Virgin Islands, and Cayman Islands, a clear distinction from its status as the second largest market.
Because Apple products are released much later in China than in other countries, many Apple fans turn to smugglers to satisfy demand.