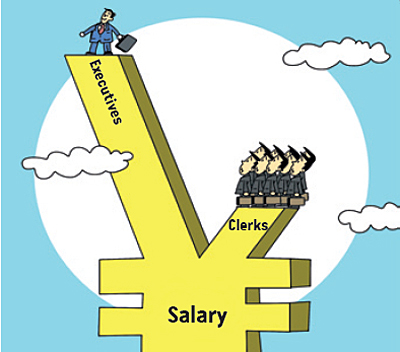 (CFP)
Mai Boliang, CEO of China International Marine Containers Group Ltd. (CIMC), has made headlines the past two years as having the highest salary of any CEO of centrally administered enterprises listed in China's yuan-denominated A-share market.
Centrally administered state-owned enterprises (SOEs) include the 113 SOEs directly administered by the State-Owned Assets Supervision and Administration Commission of the State Council (SASAC), which are in strategically important industries such as aerospace, energy, shipping, food and mineral trading, telecommunication, steel and auto production as well as construction. They also include large state-owned financial institutions, and SOEs directly administered by government ministries, such as China Railway Corporation and China Post.
In 2013 alone, Mai made 8.69 million yuan ($1.42 million), the highest not only among SOEs but all other companies listed in the A-share market that had disclosed their executives' pay. In 2012, he pocketed 9.98 million yuan ($1.6 million), also the topmost of CEOs of centrally administered SOEs in the A-share market.
In 2013, the average annual income of urban employees working for non-private organizations was 52,379 yuan ($8,380), and that of urban employees in the private sector was 32,706 yuan ($5,233), according to the National Bureau of Statistics.
Data from iFind, a Zhejiang-based major financial data provider, show that 323 A-share listed centrally administered companies had disclosed the salaries and bonuses of their general managers in 2013, which averaged 773,000 yuan ($123,680), 14.8 times and 23.6 times as much, respectively, as the average of employees in urban non-private organizations, and those in urban private sectors.
CEOs making more than 1 million yuan ($163,000) annually mostly worked in sectors like manufacture, finance, real estate and the wholesale and retail industries.
In addition to high salaries, many top executives at major SOEs hold vice-ministerial or ministerial-level administrative ranks in the government and enjoy other fringe benefits such as transportation subsidies and communication allowances.
Controversy
At Guba.eastmoney.com, a bulletin board system for shareholders, some netizens commenting on Mai's pay in late August were divided in their responses.
A netizen called Mai's whopping salary "blatant robbery."
"An ordinary worker earns less than 40,000 yuan ($6,500), while he [Mai] gets so much," the netizen commented. "If people in poverty-stricken areas know this, what will they think of him?"
The CEOs are "using their power and the country's resources to make colossal personal gains," remarked netizen Laomao xsx.
A netizen known as Shanghai Shareholder asked, "Has his company grown as fast as his salary? What about its stock price?"
Some netizens disagreed. "Whether it is robbery or not, we should look at performance and returns," a netizen named Chad Luzili remarked, "I believe in this company, and I am waiting for returns [on my investment]. I believe in talented people."
"To tell the truth, Mai deserves an annual salary of 10 million yuan ($1.6 million). That is not too much," said a netizen identified as a shareholder in Guangzhou, capital city of Guangdong Province.
"I do not care how much he makes as long as he helps me earn more," said netizen Shareholder Ge.