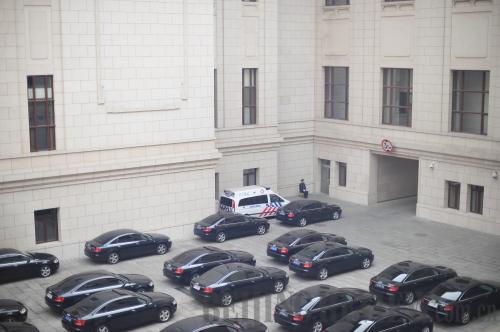 EXCLUSIVE SERVICE: Cars belonging to different government departments are seen at a parking lot outside the venue of a national legislative session in Beijing on March 8, 2013 (CFP)
The issues associated with government vehicles, including the huge costs involved in their purchase and maintenance on top of their misuse as private vehicles, have long been criticized by the public in China.
According to the National Bureau of Statistics, of the Central Government's 2013 spending in just three areas—hospitality, officials' overseas trips, and government vehicles and maintenance—over 4.25 billion yuan ($686 million), or 60 percent of the total of 7.15 billion yuan ($1.15 billion) went to cars alone. In 2013, vehicles were owned by 38 central government bodies and 389 affiliated institutions.
A recent report by national broadcaster China Central Television quoted researchers on government reform issues as saying that only about one third of government vehicle use is directly related to public business, while officials' and drivers' private use take up the remaining two thirds.
In response to such concerns, China's central authorities unveiled two directives on July 16, setting a detailed timetable for reform of the supply and use of government vehicles.
According to the directives, China will scrap the supply of vehicles for use in regular government affairs, while keeping those for special services such as law enforcement and emergencies.
Zeng Kanghua, a professor at the Beijing-based Central University of Finance and Economics, said that the excessive spending on and misuse of government vehicles may not only bring about a heavy burden on the state budget but also breed corruption.
"The move showcases the central authorities' firm determination to solve such problems," Zeng said.
Dedicated move
China began considering the reform of its government vehicle system back in 1994, when central authorities released a regulation on it for the first time.
However, in the following 20 years the number of government-funded vehicles saw a sharp rise. Several attempts by the Central Government to limit the number have failed, because they were not detailed or pragmatic enough to be implemented, according to media commentary.
Currently, there are more than 2 million government cars across the country, estimated Ye Qing, Deputy Director of the Hubei Provincial Bureau of Statistics, though the authorities have never released an actual number.
"After 20 years of arguing back and forth, we have finally seen a breakthrough," Ye said, referring to the recent two directives.
Cai Jiming, a professor at the Institute of Economics of Tsinghua University's School of Humanities, is a member of an expert panel advising the newly launched government vehicle reform. He believes that the dynamics and range of the latest reform are unprecedented.
Chinese officials above a certain level have typically been provided a driver and car for their work, a significant drain on public funds.
Tong Zhiwei, a professor at the Shanghai-based East China University of Political Science and Law, estimated that the expenses on just one government vehicle may be up to 100,000 yuan ($16,150) every year.