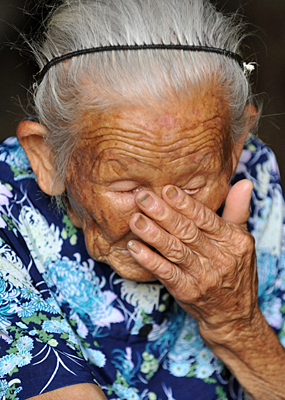 RECALLING THE PAST: Wei Shaolan, a resident of Guidong Village, Guangxi Zhuang Autonomous Region, is one of the "comfort women" who have spoken about past humiliation (LU BOAN)
More than 70 years later, the horrors of World War II (WWII) are being drawn back into the spotlight as disputing factions tackle the delicate and complex issue of "comfort women."
In the 1993 Kono Statement, then-Japanese Chief Cabinet Secretary Yohei Kono acknowledged that the Japanese Government and its Imperial Army were involved in the capture of between 200,000 and 400,000 girls and women—so-called "comfort women"—during WWII, who were forced into sex slavery by Japanese army.
In a recent review of the Kono Statement, however, Japan suggested that it be issued as the result of a political compromise between the country and South Korea at that time. Released on June 20, the Japanese Government stated in the review that it was not possible to confirm that women were forcefully recruited, aiming to deny that the involvement of the implicated women and girls was involuntary.
This move "must cause tremendous agony to the women," said Navi Pillay, UN High Commissioner for Human Rights, on August 6. She urged Japan to issue a "comprehensive, impartial and lasting resolution" on the wartime sexual crimes of its troops.
Two weeks before Pillay made her remarks, on July 24, the UN Human Rights Committee released its concluding observations on the sixth periodic report on Japan's implementation of the International Covenant on Civil and Political Rights. It requested that Japan make immediate and thorough efforts to redress the issue of wartime "comfort women." The committee urged Japan to officially recognize its responsibilities, prosecute and punish perpetrators, and educate students and the general public about the issue, including adequate references in textbooks.
To uncover the historical truth behind the coercion and abuse of these women, Su Zhiliang, Director of the China Research Center on Chinese "Comfort Women" at Shanghai Normal University, has performed extensive research on the topic. As part of Su's mission to widely publicize the events of the time, he proposed that historical documents on "comfort women" be protected and registered on the Memory of the World Register, a UNESCO program launched in 1997 to preserve history through documents and other physical evidence.
China submitted an official application to register its documents on the 1937 Nanjing Massacre and "comfort women" on the UNESCO Memory of the World Register on June 10, and the application was accepted on June 12.
Survivors' accounts
Su began his research on "comfort women" by chance. It was in 1992, while working as a visiting scholar at the University of Tokyo, that he learned from a Japanese colleague about the invading Japanese Army's first "comfort station" in Shanghai. The Japanese Government had deliberately concealed the issue until 1992, when it caught worldwide attention.
Upon returning to China, Su immediately started his investigation into the issue. However, he encountered many difficulties in his research: the Japanese Army had destroyed a large number of documents before its surrender, a majority of the victims had passed away, and many surviving "comfort women" and their descendants were reluctant to speak about their suffering.
Despite the difficulties, Su managed to find 100 plus survivors who were willing to speak with him. Tan Yadong, an elderly woman living in Wanru Village, south China's Hainan Province, told investigators the tragic story of a girl named Ashi.
Having been raped by Japanese soldiers, Ashi became pregnant. Japanese soldiers tied her to a tree and cut open her belly. All "comfort women" in the station were ordered to line up along the road to watch the process. Tan told investigators that she has been haunted by this atrocity for decades, and it often gives her nightmares.
Other women also spoke to Su about similar traumatizing experiences. Zhang Xiantu, was forcibly drafted as a "comfort woman" at the age of 17. She shivered with fear upon seeing a Japanese man enter the room. Since then, her hands have continued to shake.