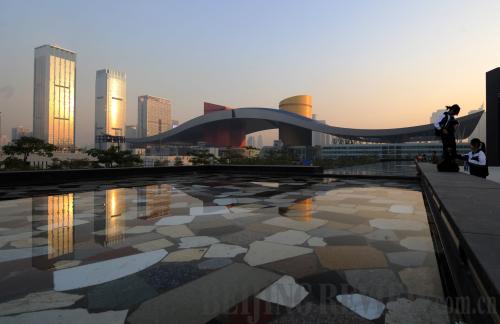 WINDOW OF REFORM: Two middle school students rest at the square near the government building and the civic center of Shenzhen, Guangdong Province, the forefront of China's reform and opening up (CNSPHOTO)
Before giving a lecture at prestigious Tsinghua University in March, Nobel Prize laureate Joseph E. Stiglitz asked Tsinghua professor Hu Angang two questions: what does the modernization of the national governance system and governance capability mean? And how is it related to China's reform?
Stiglitz asked the right person. Professor Hu is a leading researcher in studying China's political and economic situation and a prolific author in these fields. He has extensively studied the topic in question, and in collaboration with several young scholars, recently published the results of his research in a book titled The Modernization of Chinese National Governance.
"This book is the first systematic and objective evaluation on China's economic reform in the past decade," said Li Yongqiang, head of China Renmin University Press, publisher of the book, at the book's launch ceremony on September 9.
Multiple perspectives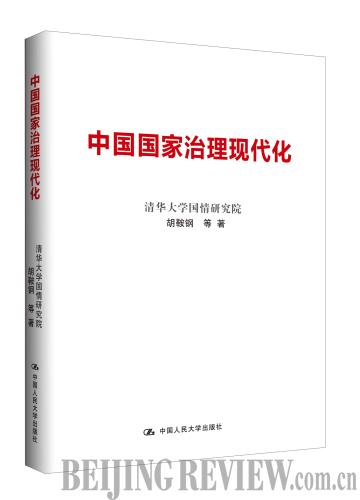 The Modernization of Chinese National Governance
In the new book, Hu attempts to answer several questions: how should the current system of government and its capability be evaluated? How can a country push forward modernization in that area? How does China's system stack up against other countries?
Hu has reviewed theories on national modernization, governance and efficiency. "The modernization of the government system and its proficiency is not an imported idea, but a part of China's overall push for progress," Hu said.
Beginning in the 1960s, China launched an initiative to modernize its agriculture, national defense and science and technology industries by the end of the 20th century. Hu said that China's national governing system cannot be separated from the country's history.
He believes that the greatest innovation to come out of China is the creation of a modern national system of rule distinct from Western ones. He said that in the age of agricultural civilization, Emperor Qinshihuang (221-207 B.C.) created an administrative system of prefectures and counties. In the age of industrial civilization, Mao created a country led by the Communist Party of China and the National People's Congress. Countries have different national conditions, so every country's political system is unique and decided by its people, Hu said.
He said that China's governing system is remarkable for its capability to innovate and reform itself under different circumstances, and this self-reform mechanism enables Chinese political structure to adapt faster to the changes taking place both at home and abroad.
To test the quality of China's system of rule, Hu examined a number of major development indicators from the years 2000 to 2012 for China and the United States, including GDP, healthcare, social security and public security. Through complicated evaluation and comparison, he found that China outperformed the United States in several instances.
For example, World Bank data show that China's GDP grew at an average annual rate of 11.1 percent from 2000 to 2012, while that of the United States grew at 1.8 percent. The gap between the per-capita income of the U.S. versus China shrank from 15 times to about five times. Through an analysis of the two countries' debt-to-GDP ratio, Hu also found that China's fiscal policy is more sound and sustainable.