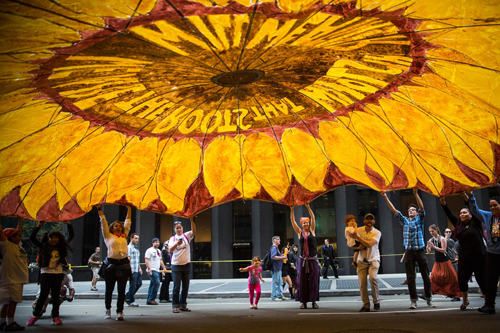 Demonstrators call for drastic politicaland economic efforts to slow global warming during the People's ClimateMarch on September 21 in New York City (XINHUA/AFP)
Samantha Bresler left her home in Brookline, Massachusetts, at 5 a.m. on September 21. She rode one of 400 or so buses that shuttled people to New York City to attend the People's Climate March in Manhattan, in support of Mother Earth, two days ahead of the UN Climate Summit.
Carrying a sign that read, "This planet is a hot mess," she told VICE News she has been to several demonstrations for the environment before but never saw anything approaching the scale of this event.
"You see all kinds of people and groups, old, young, even groups that don't really agree with each other," Bresler said, "but they're all here to support the same thing."
With the theme "Catalyzing Action," a special one-day global climate summit was held at the United Nations Headquarters in New York. It was the first time since the Copenhagen Summit that world leaders gathered to focus on the issue.
"This summit was not about talk. History is made by action," Secretary-General Ban Ki-moon told the opening ceremony in the General Assembly Hall.
Setting the stage
Each of the last three decades has been successively warmer at the earth's surface than any other decade since 1850, noted the UN Intergovernmental Panel on Climate Change Chairperson, Rajendra Pachauri.
"How on Earth can we leave our children with a world like this?" he asked. "I'm not sure I could stand before you if the threats of climate change had no solutions."
According to the Intergovernmental Panel on Climate Change, the United Nations has set a goal of keeping global temperatures from rising by no more than two degrees Celsius above pre-industrial levels. Meeting this goal would require a worldwide reduction in greenhouse gas emissions of 40 to 70 percent by middle of this century.
The purpose of the Climate Summit was to set the stage for a breakthrough in next year's Paris conference regarding a new deal on cutting down greenhouse gas emissions and to galvanize transformative action in all countries to reduce emissions and build resilience to the adverse impacts of climate change, Ban says in a statement on the summit's official website.
Making promises
Despite some criticism of nations for not giving concrete pledges, over the course of the day, many of the more than 120 heads of state and government and business, finance and civil society representatives in attendance announced their commitment to reduce emissions, enhance resistance to climate change and mobilize financing for climate action.
The EU made a promise to work to continue to cut emissions beyond the 2020 horizon so that by 2030 greenhouse gas emissions in the bloc would be 40 percent below the 1990 level. The vow also calls for using renewable energy for 27 percent of the EU's power needs and to increase energy efficiency by 30 percent.
"The European Union is on track to meet our targets and at same time we have seen our economy grow," Jose Manuel Barroso, the European Commission President, said. "We prove climate protection and a strong economy must go hand in hand." He added that the EU would give $3.9 billion to help developing countries adopt climate-friendly policies.
Some developing countries also stressed their own efforts to address climate change. Many emphasized initiatives to protect and expand their forests. Georgia said it was working to become carbon neutral by 2050; Costa Rica said it would use 100 per cent clean energy by 2016; and Chile said it was aiming to green 45 percent of its energy by 2025.
"We are the first generation to feel the impacts of climate change and the last generation that can do anything about it," U.S. President Obama spoke to the summit. He introduced an executive order he signed on the same day that is aimed at reducing carbon emissions fighting climate change. It requires federal agencies to incorporate "climate resilience" into its action plans abroad. It also calls on private entities in the U.S. to help poorer nations address their emissions issues because as Obama said, "nobody can stand on the sidelines," developed and developing countries alike.
About 20 public and private sector partners united on the same day to launch the City Climate Finance Leadership Alliance to generate trillions of dollars to invest in low-carbon and climate-resistant infrastructure in cities in low- and middle-income countries.
"This will allow increased capital to flow to cities, unblocking the transformational change needed to meet the challenge of climate change and contributing to the new urban agenda of cleaner, more resilient and environmentally sustainable cities," said UN-Habitat Executive Director Dr. Joan Clos.
China's responsibility
"With more cars on the road every year and increasing demands for power from individuals and industrial users alike, China is fast becoming the world's largest consumer of energy," Jack Perkowski wrote in an article on Forbes magazine's website. But he believed "The good news is that China recognizes its energy problem and is making big bets on renewable energy."
According to The Global Status Report, released recently by the Renewable Energy Policy Network for the 21st Century, China once again led the rest of the world in renewable energy investment in 2013, spending a total of $56.3 billion on wind, solar and other renewable projects. The report stated that China invested more in renewable energy than all of Europe last year.
Increasing its share of non-fossil fuels is part of China's national program to fight climate change. "China is dedicated to revolutionizing its energy production and consumption, establishing a carbon trading market at a faster pace, and blazing a path for sustainable development that leads to both economic growth and an effective response to climate change," Vice Premier Zhang Gaoli, acting as Chinese President Xi Jinping's special envoy, said at the Climate Summit.
According to Zhang, China was the first among developing countries to formulate and implement a national climate change program and has recently adopted a national plan to make sure that it will meet the target of cutting its carbon intensity by 40 to 45 percent from the 2005 level by 2020 .
In 2013, carbon intensity in China was down by 28.5 percent from the 2005 level, which was equivalent to a reduction of 2.5 billion tons of CO2 emissions, China's chief climate negotiator Xie Zhenhua told a news conference on the sidelines of the Summit.
"I have no question whatsoever that the Chinese Government is serious about wanting to attack its pollution problems," Dean Richard Ottinger, the founder of the Energy and Climate Center at Pace University, told Beijing Review. He said he believes there are measures that China can and should take to accelerate the transformation of their transport system to electricity.
"China will announce post-2020 actions on climate change as soon as we can," Zhang said, adding that the action plan will also take the world's most populous and largest developing country to the peak of its total CO2 emissions as early as possible.
"As a responsible major country, China will also take on international responsibilities that are commensurate with its national conditions, stage of development and actual capabilities," he said.
The presidential envoy also urged members of the international community to make concerted efforts so that the 2015 Paris conference will reach an agreement as scheduled.
(Reporting from New York City)