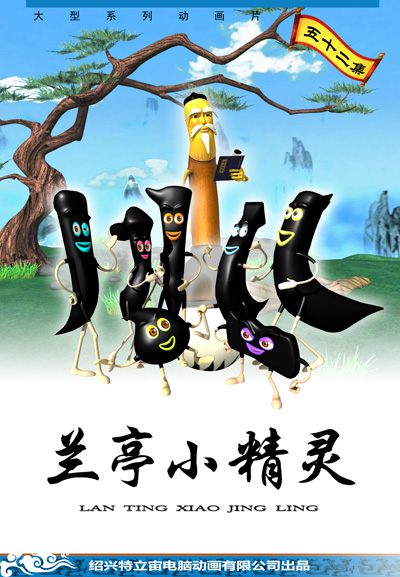 SEVEN STROKES: Poster forLanting Elves, a creative cartoon especially produced for Chinese children and language learners across the world (FILE)
In spite of the previously mentioned controversies, creative and culturally rich cartoons are also on the rise in China.
For example, Lanting Elves, produced by Telizhou Animation Co. Ltd. in Shaoxing of east China's Zhejiang Province, interprets traditional Chinese characteristics as well as calligraphy.
The 52-episode animation was completed after two years' work, with an investment of 15 million yuan ($2.46 million).
"Are Chinese characters difficult to learn? After watching our cartoon, you will find it both easy and fun," said company president Ding Liqing.
The cartoon tells the tale of seven elves, who represent the seven basic strokes of the Chinese character. Through humorous stories, it enables the audience to learn the correct writing of Chinese characters in a fun way.
It cleverly incorporates Chinese ink and wash painting into its framework, alongside local Shaoxing elements such as Kuaiji Mountain.
Nowadays, people use computers to write or communicate, which means they often forget how to use the pen. Lanting Elves has done much to redress this issue, said Zhou Yinong, a professor with the University of Shaoxing.
So far, the cartoon, which is especially made for Chinese children and Chinese language learners across the world, has gained global attention. TV stations in the United States, Russia and Switzerland have contacted the company with regards to overseas broadcasting rights. In October, the animation featured at Cannes TV Festival in France, receiving a flood of approval.
Ding is a good example of Chinese cartoon producers dedicated to providing creative ideas for children.
"We are determined to produce excellent animations with rich Chinese cultural elements for kids, free of any violent content," Ding said.
Born in Shaoxing, China's textile powerhouse, Ding ran a profitable clothes factory until 2006, when he established Telizhou Animation and shifted his focus to the cartoon industry.
"In 2006, many friends told me it was unwise to give up the factory and charge into the animation industry, with which I was unfamiliar," Ding explained. "I believe I made the right choice."
"China is short of creative cartoons for children, which directly affects their growth and so, the future of our country. It adds to culture, while providing both entertainment and ideology."
Ding's vision has proven correct. After four years of hard efforts, Shao Nian Shi Ye (Young Expert in Legal Briefs, was aired on the CCTV Children's Channel and later rewarded as home-made animation of the year by then the State Administration of Radio, Film and Television. It was subsequently aired on most of China's major local satellite television stations.
The cartoon covers the life of a young, brave and chivalrous Shaoxing expert in legal affairs who, together with his young pals, supports virtue and punishes vice through wisdom.
The audience can also appreciate distinctive local scenery, including bridges, rivers and the black-awning boats of the water town, alongside local cuisine such as stinky tofu.
"I will continue to produce more creative cartoons for children in the future, with culture always the dominant element," Ding said.
Email us at: yuyan@bjreview.com