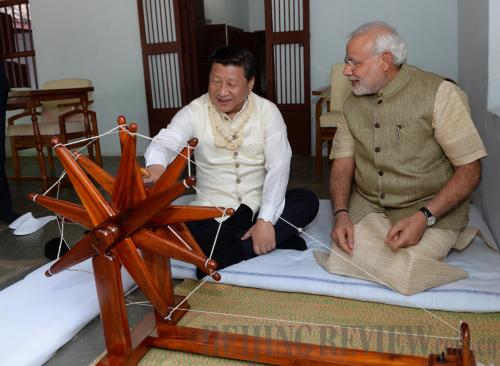 WEAVING FRIENDSHIP: Chinese President Xi Jinping rotates a spinning wheel that was once used by Mahatma Gandhi as he visited Gandhi's former residence along with Indian Prime Minister Narendra Modi in Gujarat on September 17 (MA ZHANCHENG)
In what the media described as "riverfront diplomacy," visiting Chinese President Xi Jinping and Indian Prime Minister Narendra Modi caught international attention as they took a riverbank stroll on September 17 in Gujarat. Wearing a traditional Indian vest presented to him by Modi, Xi, who was on his first state visit to India, talked with his host while they sat side by side on a swing chair as they visited a riverside park development project in Modi's hometown.
Gujarat was the first leg of Xi's three-day tour of India from September 17 to 19, following his visit to the Maldives and Sri Lanka that began on September 14. Pakistan was also on Xi's original itinerary, but the Chinese Foreign Ministry announced on September 6 that the two countries had agreed to postpone the arrangement due to political unrest in Pakistan.
As China and India are currently the two most populous countries and two largest emerging economies in the world, observers said that Xi's visit will upgrade the full-range bilateral engagement to forge a closer development partnership despite their border disputes. Meanwhile, they added that Xi's South Asia trip embodies China's efforts for the continued perfection of its diplomacy with neighboring countries.
Professor Jiang Jingkui, Director of the Center of South Asian Studies at Peking University, said that South Asia is a key part of China's peripheral diplomacy featuring amity, sincerity, mutual benefit and inclusiveness.
Higher-level cooperation
During interviews with the press ahead of Xi's arrival in India, Modi coined a new terminology to describe the potential of India-China relationship as "INCH (India and China) toward MILES (Millennium of Exceptional Synergy)." He said that every inch the two countries cover can rewrite history of humanity and every mile will go a long way in making this planet a better place.
Similarly, Xi has also stressed that if the "Chinese Dragon" and the "Indian Elephant" coexist harmoniously and realize peaceful, cooperative development, it will benefit 2.5 billion people in the two nations as well as those in other developing countries, and will have far-reaching effects in the region and the world as a whole.
Though there are widely known border disputes between the two countries, the top leaders of the two sides attach more importance to what bilateral cooperation could bring to both.
Chinese observers believe as China and India share similar national conditions and the same development goals, their common interests far outweigh their differences.
For the common goal of economic development, the two countries need each other mutually, Jiang said.
Jiang held that as China and India are respectively a global manufacturer and a major service provider, the mutual complementarity of the two economies provides great potential for them to jointly boost cooperation in trade, investment, financial services and new and high technologies.