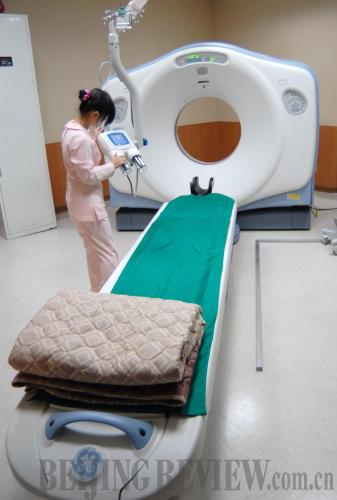 HANDS JOINTED: A nurse cleans a CT scanner at Xiamen Chang Gung Hospital, a joint-venture hospital that was established in 2008 in southeast China's Fujian Province (CFP)
Foreign investors have been given the green light to set up wholly owned hospitals in seven province-level jurisdictions in China, the Chinese Government announced on August 27.
The municipalities of Beijing, Tianjin and Shanghai, and the provinces of Jiangsu, Fujian, Guangdong and Hainan are taking part in a pilot scheme. Foreign investors can either set up a new hospital or participate via mergers and acquisitions.
There is no minimum requirement on the size of the overseas investment, but the government did outline several other conditions of entry.
First, foreign investors must be able to demonstrate previous experience of dealing with healthcare investment and management. They must also introduce leading management concepts and services; introduce advanced technology and equipment; or improve the health capability and make up for a local shortage of health technology, funds and equipment.
Chinese hospitals often lack funding, and there is a steep gap between urban and rural care, which often leads to tension between patients and doctors.
Analysts say the latest move of China reflects its drive to open up the private healthcare sector as it seeks to take the pressure off the state-run system.
Vipul Prakash, Director for Manufacturing, Agribusiness and Services in the Asia-Pacific at the International Finance Corp. (IFC), an investment arm under the World Bank, said the opportunity is great for foreign and private players.
"I think private healthcare is still a relatively small proportion of services in China, as the government remains a main provider," said Prakash, who in the past few years has invested roughly $300 million in China's healthcare sector. "There's a lot of scope for more private participation in the sector."
A right direction
Analysts also believe that the opening up of China's healthcare sector will boost the development of more high-end medical services and inspire public hospitals to up their game.
"The purpose of this policy is to enhance healthcare reform. The government believes that wholly foreign-owned hospitals can meet some of the healthcare needs of high-end patients. Moreover, the government hopes that public hospitals can take a page from the wholly foreign-owned hospitals and improve their technology and services," said Ma Jin, Executive Dean of the School of Public Health at Shanghai Jiao Tong University.
In late July, German healthcare provider Artemed Group signed a framework agreement to establish a hospital in Shanghai. Local media reported 20 more foreign hospitals were also to be set up.
Currently, overseas-funded hospitals operating in China are mostly joint ventures with local investors. Only two private hospitals, Shanghai Landseed International Hospital and C-Mer Dennis Lam Eye Hospital in Shenzhen, south China's Guangdong Province, are solely funded by Taiwan and Hong Kong investors respectively.
Shanghai Landseed International Hospital opened for business in June 2012. The hospital was built with 150 million yuan ($24.39 million) from the Taoyuan-based Landseed International Medical Group, which entered a joint venture to build Shanghai Chenxin Hospital in 2002.
Compared with Shanghai Chenxin Hospital, which mainly serves people from Taiwan, Shanghai Landseed International Hospital caters more for Chinese mainland residents.
"We have sensed that residents on the mainland, especially those in first-tier cities such as Shanghai, Guangzhou and Beijing, now have a big demand for high-end medical services," said Victor Chang, founder and President of Landseed.
Chang said he had great confidence in the development of new hospitals on the mainland market. He also said the number of patients from the mainland treated at Shanghai Landseed International Hospital has seen a 50-percent growth annually in the past two years.
"Behind the growth is the high-quality service the hospital provides," said Cai Jiangnan, Director of the Center for Healthcare Management and Policy at Shanghai-based China Europe International Business School.