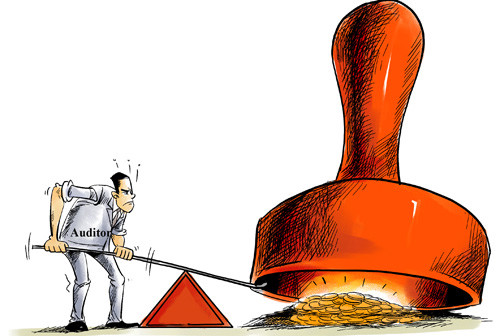 UNDER THE SUNSHINE: Annual audits by a national body have exposed irregularities and violations among SOEs, but so far has failed to bring any substantive change (CFP)
Being an employee of China's state-owned enterprises means not only good pay, but also comes with some perks normally reserved for workers in multinational firms, according to a recent audit. China Mobile spent 24 million yuan ($4 million) on gym memberships for its employees from 2009 to 2011, and during the same period State Nuclear Power Technology Corporation bought 34 million yuan ($5.6 million) in shopping gift cards for its staff.
In addition to the generous benefits, the audit found that poor financial management was rampant among SOEs, along with inaccurate accounting and incomplete financial statements, according to Wei Qiang, head of the National Audit Office (NAO)'s enterprise department.
Although similar audit results by SOEs are disclosed every year, poor fiscal management still prevails. Experts say that measures are needed to boost transparency in the financial management of SOEs and more powers should be vested in the country's NAO.
Prevalent violations
The audits, which examined the 2011 finances of 10 companies under the control of the State-owned Assets Supervision and Administration Commission (SASAC) and three state-owned banks, looked at SOE headquarters and some of their subsidiaries. The audits reveal that violations regarding employee spending were prevalent. The Jalainur Coal Company attached to China Huaneng Group used 10.85 million yuan ($1.75 million) reserved for security facilities toward housing for its employees, a practice forbidden under SOE regulations. The headquarters of China Mobile spent 53 million yuan ($8.55 million) on computer rentals from 2005 to 2011, despite the value of the computers being worth less than half that amount. The audits even discovered that the whereabouts of ancient books belonging to the China Publishing Group were missing.
According to audit results, poor management of investments has brought giant losses for SOEs. For example, China's Changyuan Electric Power Technology Co. Ltd. of the State Grid Corporation paid 12 million yuan ($1.93 million) more than necessary for the acquisition of two coal mines in 2009, but the mines have still not gone into production four years later, bringing a loss of 486 million yuan ($78.39 million).
The office also released audit results for three state-owned banks—Export-Import Bank of China, Agricultural Bank of China and China Construction Bank. The NAO said the banks were found to have extended loans worth 24.5 billion yuan ($3.95 billion to unqualified projects and companies.
SOEs account for nearly half of China's total economy. The NAO conducts audits into China's largest state-owned enterprises every year and it is not the first time it uncovered rampant malpractice.
According to the financial audit report of 15 SOEs last year, all of the companies that were audited have been found to have irregular financial practices and disciplinary violations. The irregular practices include misuse of funds, overstating earnings, understating assets with shoddy accounting practices, concealing information about overseas investment activities, evading taxes, excessive bonuses and forged invoices. The audit reports show that China National Petroleum Corporation and China Petrochemical Corporation together reported about 2.7 billion yuan ($451.6 million) less in profit. SinoSteel Corporation inflated its sales revenue by nearly 2 billion yuan ($322.6 million).
In 2010, the NAO audited the financial statements of 17 centrally administered SOEs for the 2009 fiscal year, including China National Offshore Oil Corporation, Aluminum Corporation of China Ltd., China Ocean Shipping (Group) Company and China United Network Communications Group Ltd. Development Co, a subsidiary of Sinosteel International Holding Co, withdrew large sums of cash to pay commissions to individuals. The company also transferred part of its funds to the personal accounts of staff for its daily expenditures.
Shortly after the release of audit results, nine of the audited SOEs released corrected versions of their reports.
Corrections underway
Regarding overstated revenue, China Mobile adjusted its accounting numbers in 2012 and penalized 29 employees for shady numbers keeping, said the company in a statement on its official website. The company also ordered that those who received additional insurance paid by the company to pay back the premiums. Gym memberships were also revoked. According to Gu Qing, Assistant Editor-in-Chief of Zhonghua Book Co. under the China Publishing Group, efforts are underway to retrieve the missing ancient books and more strict rules will be applied to regulate their lending.
"All of the 10 enterprises have attached great significance to the problems unveiled by the audit. They enhanced regulations and accountability," said Wei of the NAO.
By the end of March, those companies had stipulated or improved 785 regulations and made a supplementary tax payment of 537 million yuan ($86.59 million). Seventy people were punished for severe company violations.
"Most of the problems mentioned in the audit report have been rectified," said the SASAC in a statement released on its website on May 10. The commission would push SOEs to establish safeguards to avoid the foul practices uncovered by the audits, adding that SOEs lag far behind top-level international enterprises and should take advantage of the revelations to enact more stringent practices.
Although different SOEs are exposed every year, their malpractices continue. "In one sense, SOEs are hardened criminals in that their misdoings were disclosed one year and repeated the next," said Yu Huifeng, a business commentator.
"Violations in loan issuing was found in almost all banks audited every year. In addition, fabricating cost and management expenses have frequently appeared in the audit report. SOEs just carry on with these errors," he added.
Despite the fact that the audit report has shown a light on the misconduct of SOEs, the NAO is not powerful enough to stop it. "In China, the audit body only reveals the wrongdoings, but it should have other more important functions, namely, forcing companies to make changes," said Yu.
"The more viable way to improve decision-making efficiency is to establish accountability which will force possible violators to think twice," Liu Rui, Vice Dean of the School of Economics at Renmin University told Economic Information Daily.
Xinhua Daily Telegraph called for more strict and drastic punishment once shady practices are uncovered, suggesting that the SASAC should fire those SOE executives whose companies failed to pass an audit.
Email us at: liuxinlian@bjreview.com