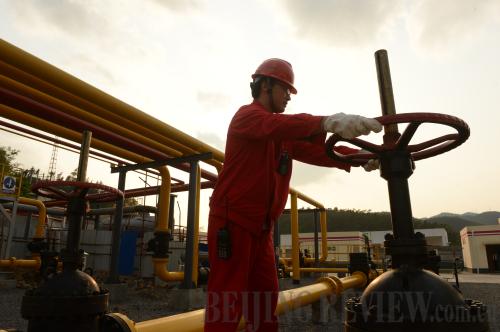 A TURN FOR THE BETTER: A worker operates equipment at Baitao shale gas station of Jianghan Oilfield located in Fuling, Chongqing. The shale gas field in Fuling is expected to produce an average of 10 billion cubic meters of shale gas per year by 2017 CFP (HU QINGMING)
Shale gas, which has helped the United States realize energy independence, is likely to set off an "energy revolution" in China, a major energy consumer with one of the world's largest reserves of shale gas.
The country's Ministry of Land and Resources (MLR) announced that it will soon launch the third shale gas exploration tender at a press conference on September 17.
According to Peng Qiming, Director of the Department of Geological Exploration of the MLR, by the end of July 2014, China had granted 54 permits for prospecting shale gas, with a total investment of 20 billion yuan ($3.26 billion). The MLR estimates that China's shale gas production will soon experience a period of massive growth, with its output reaching 6.5 billion cubic meters in 2015 and 15 billion cubic meters in 2017. By 2020, shale gas output in China may surpass 30 billion cubic meters and is expected to reach 40-60 billion cubic meters if properly explored, accounting for one fifth of the total natural gas output.
Uncharted terrain
China has regarded this clean and efficient natural gas as a new hope in guaranteeing the country's energy security and readjusting its energy mix. During its 12th Five-Year Plan (2011-15) period, the government has issued several documents to support exploitation of shale gas and stimulate the development of the industry.
Although the current shale gas output is still relatively small, the MLR's ambitious plan shows its determination to accelerate the development of the shale gas industry.
The macroeconomics institute affiliated to 21st Century Business Herald believes it is urgent that the country improve its capabilities in terms of prospection and output forecast, which not only constitutes the foundation for resource assessment, but is also the basis for formulating medium- and long-term shale gas development plans and of resource management.
Highly risky, the prospection and exploitation of shale gas require highly sophisticated technologies, enormous inputs and a lot of time. China has only just recently commenced exploitation of shale gas, and it produced only 200 million cubic meters of the fossil fuel in 2013.
The institute affiliated to 21st Century Business Herald believes that because of differences between the two countries in terms of geological structures, technological capabilities, infrastructures and business patterns, the success of the U.S. model for shale gas exploitation will be hard to replicate in China.
Though it is widely accepted that China has huge reserves of shale gas, the specific magnitude of recoverable reserves has not as of yet been established, and institutions at home and abroad offer quite different figures, ranging from 10.3 trillion cubic meters to 12.6 trillion cubic meters.
At the press conference, Peng admitted that China's shale gas industry is still in its infancy.
Compared to the United States, China's shale gas reserves are located much deeper, making the cost of discovering and mapping them two to three times higher that in the United States, Gordon Kwan, Regional Head of Oil and Gas Research at Nomura told news website ThePaper.cn.
According to a report by Haitong Securities Co. Ltd., the average cost of exploitation of shale gas in the United States is only about $0.11 per cubic meter, but in China where commercial exploitation has not yet commenced on a large scale, the exploitation cost is 1.24-2.68 yuan ($0.2-0.44) per cubic meter in the absence of government subsidies.