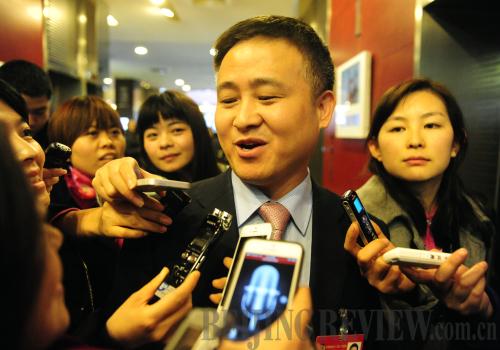 FINANCIAL INNOVATION: Pan Gongsheng, Vice Governor of the People's Bank of China, speaks to reporters in Beijing on March 4. Pan called for supporting and supervising China's burgeoning Internet finance industry (CFP)
Ma Weihua, former President of China Merchants Bank, just experienced a new taste of novelty by depositing thousands of yuan into his newly opened Yu'ebao account. "The emerging Internet finance product quickly won my favor, because I can see how much I earn a day just by clicking on a mobile phone application," said Ma.
When Alibaba, China's largest e-commerce group, offered the wealth management service—Yu'ebao—in June 2013, no one expected that it would soon become a catchphrase.
By the time traditional banks caught on to Yu'ebao, the rising star had stolen away millions of customers, and the momentum of the Internet finance shows no signs of coming to a halt. With an earnings ratio much higher than the bank deposit rate, Yu'ebao has seized a total of 81 million users with aggregate deposits totaling nearly 500 billion yuan ($81.4 billion) in China.
"The Internet is remolding Chinese people's lives. These days, it's even difficult to take a cab without cellphone applications," said Robin Li, CEO and founder of China's search engine Baidu. "Online operation is even more suited to the financial market, since it involves no physical distribution," said Li.
While Internet finance has become an irresistible trend, it's more likely to be subject to risks, because online financial transactions can take place anytime and anywhere. That's why the government needs to step in and strengthen supervision over the industry.
In the 2014 government work report delivered at the opening of the annual National People's Congress session on March 5, Chinese Premier Li Keqiang made it clear that the government will promote the healthy development of Internet finance, and improve the mechanism for coordinating financial oversight.
Breaking with tradition
All that is real is rational. Is that still the case for Internet finance? In developed economies, few Internet giants can grow into financial heavyweights, because their financial systems are quite complete with sufficient financial services supply and rapid innovation, according to Pan Gongsheng, Vice Governor of the People's Bank of China, the nation's central bank, who suggested Internet finance is a good supplement to traditional banking.
Internet finance has reached out to the areas of the market which traditional banks have failed, ignored or dismissed. In the past, traditional banks could afford to move slowly by earning huge interest margins. However, the emergence of various Internet financial products has now broken the old balance.
"Internet finance has laid down a challenge to traditional banks, because interest rates have not yet been fully freed," said Ma.