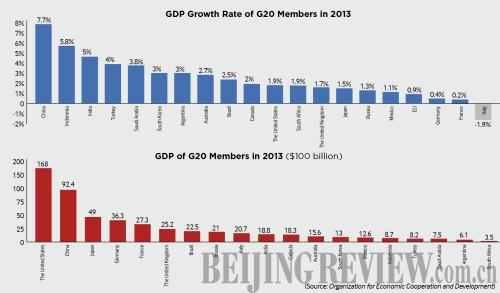 China's Major Pledges at G20 Summit
Expanding imports of over $10 trillion and increasing investment abroad above $500 billion in the next five years, which will create more demand and job opportunities for world economic growth.
Supporting the G20 in establishing the Global Infrastructure Hub and the Global Infrastructure Initiative, and promoting global infrastructure investment via such initiatives as the Silk Road Economic Belt, the 21st Century Maritime Silk Road, the Asian Infrastructure Investment Bank and the Silk Road Fund.
Adopting the Special Data Dissemination Standards of the IMF to improve transparency.
Publishing data on stockpiles of oil in a more comprehensive and timely manner, in order to help secure the world's oil supply and stabilize international crude prices.
Increasing the share of non-fossil fuels in the primary energy consumption to 20 percent by the end of 2030, and setting up a fund to help developing countries cope with climate change.
Deepening international cooperation on fighting against corruption, establishing an anti-corruption network with G20 member states and building a healthy business environment.
(Compiled by Beijing Review)
IMF's Special Data Dissemination Standards
The Special Data Dissemination Standard (SDDS) is used to guide member countries in the dissemination of comprehensive, timely, accessible and reliable economic and financial statistical data.
The SDDS comprises four dimensions: (a) coverage, periodicity and timeliness of data; (b) access by the public; (c) integrity of the disseminated data; and (d) quality of the disseminated data. For each of the four dimensions, the SDDS prescribes good practices that can be observed, or monitored, by users of statistics.
Comprehensive economic and financial statistical data, disseminated on a timely basis, are essential to the transparency of macroeconomic performance and policy.
To date, there have been 71 subscriptions to the SDDS.
(Source: www.imf.org)