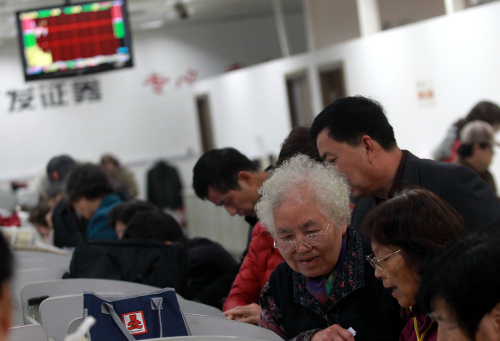 UPS AND DOWNS: Investors trade shares in a Shanghai-based securities exchange on November 17 (PEI XIN)
Risks ahead
While the Stock Connect program has been carried out, differences in the trading rules of A-shares and H-shares may hide some risks. To name but two, investors can only sell the A-shares they hold one day after they purchased them, while H-shares can be sold the day they are purchased without any limitation of the number of transactions; A-shares are traded with a limit up-limit down regime, while the Hong Kong Stock Exchange has no such mechanism.
"When news—good or bad—is released, H-shares may rise or plummet 50 percent in a single day, while A-shares may reach a limit up or limit down on that day and continuously hit the limit for the following several days. In this way, it will be difficult for investors to purchase or sell the A-shares they hold," Yang Delong, chief strategic analyst of China Southern Fund told Legal Weekly.
Wang Jianhui, Vice General Manager of the Research and Development Department of Capital Securities Corp. suggested that investors should have a good knowledge of the overseas stock market because the fluctuations of H-shares are linked with the U.S. stock market.
"Under the Stock Connect program, the liquidity of the Hong Kong Stock Exchange will remarkably improve. However, the cross-border capital flow will inevitably breed insider transactions and illegal interest arbitrage," said Song Qinghui, an independent financial commentator.
Although the Stock Connect is a limited opening up of the capital account, fluctuations on both markets may be transmitted with risks being disseminated, which leaves the question of how to put a firewall in place, said Yi Xianrong, a research fellow of the Institute of Finance and Banking at the Chinese Academy of Social Sciences.
Email us at: dengyaqing@bjreview.com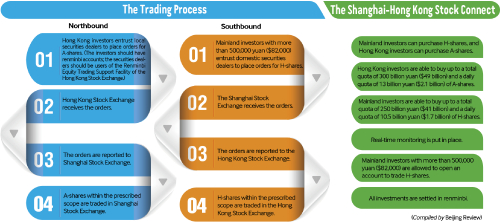 Major Progress Markers in Opening Up China's Capital Market
April 10, 2014: The China Securities Regulatory Commission (CSRC) and the Securities and Futures Commission of Hong Kong approved a pilot program allowing Hong Kong and Shanghai investors to trade shares on each other's bourses.
April 1, 2013: The CSRC allowed Hong Kong, Macao and Taiwan residents who live on the mainland to open accounts to trade A-shares.
December 30, 2011: The State Administration of Foreign Exchange approved a quota of 10.7 billion yuan ($1.75 billion) for 10 financial institutions under the RMB Qualified Foreign Institutional Investor (RQFII) scheme.
December 16, 2011: Measures for Pilot Domestic Securities Investment Made by RQFIIs of Fund Management Companies and Securities Companies was published, marking the launch of the RQFII scheme.
September 29, 2007: The China Investment Corp. was established to tap into the international capital market, with a registration capital of $200 billion.
July 1, 2007: The New York Stock Exchange became the first foreign stock exchange to set up a representative office in China following the promulgation of Measures for the Administration of Foreign Stock Exchanges' Representative Offices in China.
November 2, 2006: Hua An Fund, the first Qualified Domestic Institutional Investor (QDII), was established. It made overseas investments with private foreign exchanges at the preliminary stage of the pilot.
August 24, 2006: Measures for the Administration of Securities Investment within the Borders of China by Qualified Foreign Institutional Investors (QFIIs) was published.
April 13, 2006: The People's Bank of China (PBC) adjusted six foreign exchange management policies and took initiative to launch the QDII program.
July 9, 2003: Global financial services company UBS, as one of the first QFIIs, purchased A-shares of Baoshan Iron & Steel, Shanghai Port Container, Sinotrans Air Transportation Development, and ZTE Communications.
November 7, 2002: Provisional Measures on Administration of Domestic Securities Investments of QFIIs was jointly released by the CSRC and the PBC, with a total investment amount of $10 billion.