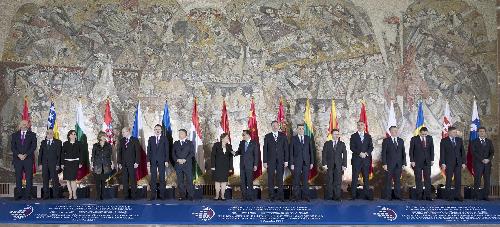 16+1 MEETING: Chinese Premier Li Keqiang (ninth left) and leaders of Central and Eastern European countries pose for a group photo after their meeting in Belgrade, capital of Serbia, on December 16, 2014 (HUANG JINGWEN)
Premier Li Keqiang has put his effective salesmanship to use in exporting China's manufacturing and technology industries. Whenever he pays a visit to a foreign country, he spares no effort to promote Chinese enterprises to the host country.
According to incomplete statistics by the Paper, a Shanghai-based Internet media outlet, Li earned deals worth about $140 billion for Chinese businesses through his five diplomatic tours in 2014, mostly in the railway industry.
During his tour in Serbia on December 16-19, Li again impressed his Central European counterparts with his efficient and practical working style, as well as China's competitive advantage in infrastructure construction. In less than four days in Belgrade, capital of Serbia, Li held a flurry of meetings with leaders of 16 Central and Eastern European (CEE) countries and sealed a host of deals on economic cooperation and cultural exchange.
Swift and practical
Li's schedule in Serbia was intensive. The premier attended the Fourth China-CEE Economic and Trade Forum and the Third China-CEE Leaders' Meeting. But Li did not limit himself to delivering a speech at the multilateral meeting of China-CEE leaders. Through close talks with the leaders of each CEE country, the premier listened to their ideas on how to further promote China-CEE cooperation.
During the leaders' meeting, participants agreed to enhance connectivity and pledged to continuously improve China-Europe international railway container transportation, encourage relevant parties to facilitate customs clearance, create new logistics routes and hubs, and strengthen cooperation in infrastructure development.
To boost trade and economic cooperation, Li proposed setting up a new framework for joint investment and financing between China and CEE countries as a way to serve the real economy.
After the meeting, China and the 16 CEE countries jointly issued the Belgrade Guideline for their cooperation, citing priorities in the fields of infrastructure, trade, investment, finance, technology and culture.
"The Belgrade Guideline shows that the cooperation between China and CEE countries is practical and broad," said Kong Tianping, a researcher at the Institute of European Studies under the Chinese Academy of Social Sciences (CASS).
Li's fruitful Serbian tour was rooted in the strong demand for infrastructure construction in Balkan countries and China's sufficient funds and experience in the field. The cooperation will have a win-win outcome, Kong said.
Building an express passage
In 2013, Li and CEE leaders reached an action plan at the Second China-CEE Leaders' Meeting in Bucharest, capital of Romania, outlining the blueprint of China-CEE cooperation.
The Belgrade Guideline further upgraded the cooperation mechanism between China and CEE partners, said Liu Zuokui, a researcher at the Institute of European Studies under the CASS. According to him, a highlight of the upgraded cooperation is demonstrated through the agreement on strengthening connectivity.
In Belgrade, Li proposed extending the China-proposed Silk Road Economic Belt and 21st Century Maritime Silk Road to Central Europe.
The CEE countries possess natural and good quality harbors, which can be used to transport large number of goods if linked with traffic arteries including railways and highways. Both sides can rely on the Hungary-Serbia Railway, the Piraeus Port of Greece and others to create a new channel of rail-sea intermodal transportation between Asia and Europe, Li said.
China and CEE countries will focus on infrastructure construction to boost connectivity and share the benefits of China's ambitious One Belt and One Road initiatives that aim at fostering common development between China, Europe and Asia, Liu said.
On December 17, 2014, China, Serbia, Hungary and Macedonia agreed to build a land-sea express passage that links Piraeus Port in the south and the Hungarian capital of Budapest in the north, stringing the Macedonian capital of Skopje and Serbia's Belgrade.
The planned express passage includes two major projects—the construction of the Hungary-Serbia railway and the expansion of Piraeus Port, the largest harbor of Greece.
Li said that the land-sea express route will be "an extension and upgraded version" of the planned Hungary-Serbia railway running through Belgrade and Budapest to connect China.
It's estimated that the planned land-sea express passage, upon its completion, will save at least seven to 11 days for cargo deliveries between China and Central Europe, compared with the current route.
Chinese and Central European leaders had already started their work on opening a new route a year ago. In November 2013, Premier Li and his Hungarian and Serbian counterparts agreed to rebuild and modernize the old Hungary-Serbia railway during their meeting in Bucharest.
With the help of China's railway technology, the Hungary-Serbia railway will speed up to 200 km per hour from the current 40-60 km per hour. The trip from Budapest to Belgrade will take two and half hours, compared with the current time of over eight hours.