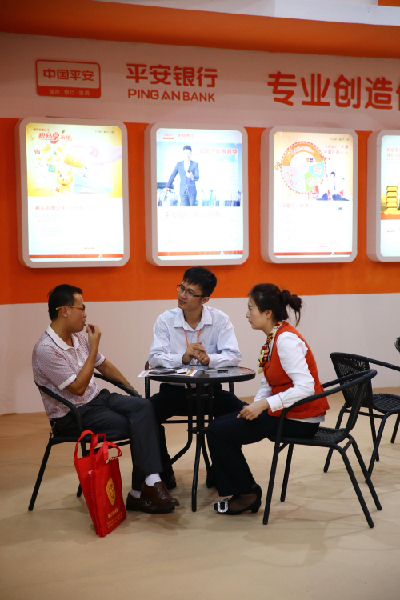 AT YOUR SERVICE: Staff members from Ping An Bank, a joint-stock commercial bank headquartered in Shenzhen, south China's Guangdong Province, talk with a client at an expo in Haikou, Hainan Province, on November 22 (CFP)
China answered public requests on November 30 when it started soliciting public opinion on a draft regulation regarding the establishment of a deposit insurance program, which will be in full operation in six months to a year, according to the People's Bank of China (PBC), the country's central bank.
The deposit insurance program is one important component of a safety net that safeguards financial stability. China has extensively discussed the setting up of such a program for years.
Analysts say that deposit insurance can help protect depositors, pave the way for the full liberalization of interest rates and promote fair competition among banks by greatly increasing the competitiveness and credibility of smaller ones.
According to the central bank, financial institutions will be required to pay insurance premiums into a special fund, and an agency will be set up to manage the money. Domestic banks' overseas branches and foreign banks' China branches are exempt. The fund will compensate up to 500,000 yuan ($81,285) per depositor if a bank suffers insolvency or bankruptcy. Official statistics show that 99.6 percent of Chinese depositors have saved less than this sum.
Deposits exceeding 500,000 yuan will be protected under a fund to help well-managed banks acquire those that have serious problems, thus protecting clients by having their deposits transferred to well-managed banks.
The central bank said that it will set different premium levels based on a bank's operating and risk management conditions. For banks in general, however, the premium will not increase financial burdens and will have minimal impacts on banks' profits before taxes because it will account for only 0.5 percent of their operating costs, it added.
"The deposit insurance scheme will strengthen protection for depositors, effectively stabilize their market expectations and increase public confidence in the banking system," said Huang Xiaolong, Deputy Director General of the central bank's Financial Stability Bureau.
Free rates
Currently, more than 110 countries and regions offer deposit protection. China started to mull over the establishment of a deposit insurance program in 1993. Central authorities promised its introduction in an ambitious reform plan mapped out in November 2013.
Lian Ping, chief economist with the state-owned Bank of Communications, said that deposit insurance is the premise for China to free up deposit rates, the last and most important step of interest rate liberalization.
Zong Liang, Deputy Director of the Institute of International Finance under Bank of China, holds the same opinion, saying that establishing a deposit insurance scheme will set a crucial foundation for interest rate liberalization by reducing the risk of a run on a bank and increasing the stability of the financial system.
Interest rate liberalization has long been high on China's financial reform agenda. In March, PBC Governor Zhou Xiaochuan said that the country was likely to ease its grip on banks' deposit rates in the coming year or two.
In late November, the central bank raised the ceiling for the one-year benchmark deposit rate from 110 percent to 120 percent, an important step in interest rate liberalization.
With more autonomy in deciding deposit rates, many banks tend to attract depositors with high return promises and investment in risky projects. Therefore, setting up a deposit insurance scheme has become the foundation of central authorities' further steps in freeing up interest rates. Experts believe such a scheme will be able to prevent the potential chaos caused by bankruptcy as well as mitigate the insolvency crisis in which banks could be mired in the aftermath of interest rate caps being removed in China.