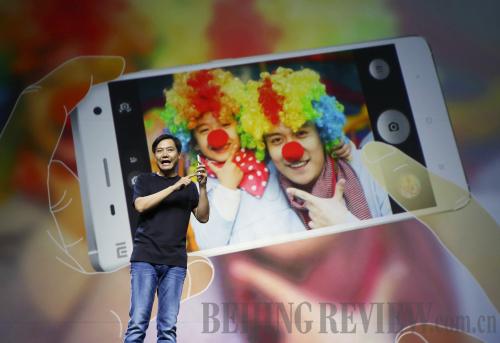 ANOTHER NEW ONE: Lei Jun, founder and CEO of Xiaomi Technology, demonstrates the latest model Mi4 at its launching ceremony in Beijing on July 22 (CFP)
Li Hong, a 33-year-old investment project manager in Beijing, has two smartphones—an iPhone and an Mi2. The ubiquitous iPhone is the flagship product of the California-based Apple, while the lesser known handset is produced by a homegrown Beijing-based maker of smartphones, tablets and televisions—Xiaomi Technology.
"I think the Xiaomi smartphone is better than the iPhone in so many ways. Compared with the iPhone, the Xiaomi handset is cheaper. Its battery lasts longer, with programs running faster and its operation system being more tailored to Chinese customers," Li said, adding that he is surrounded by people who use Xiaomi smartphones.
"The only disadvantage of Xiaomi phones is that their Android operation system may not be as safe as the Apple's IOS system."
"Both Samsung and Xiaomi use the Android system, but Samsung handsets are generally much more expensive than Xiaomi, which will inevitably lead to a sweeping victory for Xiaomi in price-sensitive markets," Li said.
Just last year, Xiaomi was a relatively obscure Chinese handset maker. But now, it has become one of the top smartphone vendors in the world's largest handset market—China.
According to data from market research and advisory company Canalys, Xiaomi became No. 1 in China by shipping 15 million devices in the second quarter, a 14-percent share of the market, against Samsung's 12-percent share.
Lei Jun, CEO and one of the founders of Xiaomi, claimed the company sold more than 26 million smartphones in the first six months of this year, a year-on-year jump of 271 percent. Sales revenues from the first half of 2014 marked a year-on-year growth of 149 percent. The high-profile 45-year-old businessman pledged to sell more than 60 million smartphones this year and 100 million in 2015.
Xiaomi also nabbed fifth place by global market share for smartphone makers in the second quarter, according to research firm Strategy Analytics, which is headquartered in Boston, the United States.
After becoming a huge success at home, the ambitious smartphone vendor started its foray into the international market this year. But its shortcomings in patents, innovation and telecom operators may all become obstacles standing in its way.
Secrets of success
Xiaomi, whose name translates into the grain "millet," was founded in April of 2010 by Lei and his friends in Zhongguancun, Beijing's technology hub dubbed China's Silicon Valley.
On August 16, 2011, Xiaomi's first smartphone quietly debuted, selling a healthy, but unremarkable 10,000 smartphones in the first month. In less than three years, Xiaomi had rolled out five fast-selling smartphone models and sold a total of 57.36 million units, the company's CEO Lei said.
Xiaomi's biggest edge lies in its reasonable price combined with high-performance hardware and highly customized software. This is very attractive to many Chinese consumers who try to strike a balance between the price and performance of their smartphones.
Their latest model, the Xiaomi Mi4, which was introduced on July 22, runs on a quad-core chipset and is claimed by Xiaomi to be the world's fastest smartphone. The Mi4 retails at 1,999 yuan ($326) for the 16G model and 2,499 yuan ($407) for the 64G model. In sharp contrast, the price of smartphone models by Samsung with similar performance could easily go up to more than 4,000 yuan ($652). It's also by far more affordable than the flashy iPhone.