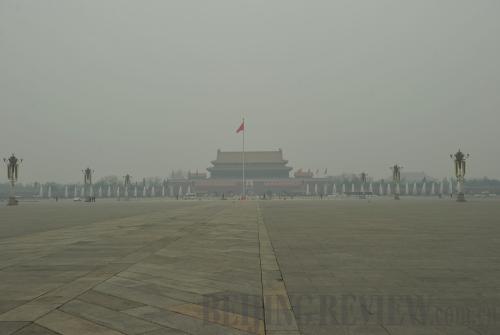 VEIL OF SMOG: Tiananmen Square in downtown Beijing is shrouded in heavy smog on March 3 (SHI GANG)
On March 3, when this year's full session of the National Committee of the Chinese People's Political Consultative Conference (CPPCC), China's top political advisory body, started in Beijing, the city was again enveloped in heavy smog after just a one-week respite from the last round of smoggy weather.
Dense haze shrouded an area of 1.43 million square km surrounding the cities of Beijing and Tianjin, as well as the neighboring Hebei Province from February 20 to 26. The pollution was so severe that on February 21, the Beijing Municipal Government, for the first time ever, issued an orange alert, the second highest in its four-level warning system for air pollution. The smog dissipated on February 27 due to favorable weather conditions.
In recent years, Beijing has found itself chronically plagued by recurring smog.
"We must wage a war against pollution, just as with the war against poverty," said Premier Li Keqiang when delivering the government work report to lawmakers at the opening of the Second Session of the 12th National People's Congress (NPC) on March 5.
Li admitted that increasing smog and salient pollution are warnings from nature regarding the extensive development model. He said that China must strengthen environmental protection and crack down on pollution using tough tactics.
According to Li, a focus should be put on mega cities and regions frequently hit by smog. "We will start by reducing PM 10 (particulate matter less than 10 micrometers in diameter) and PM 2.5 (fine particles less than 2.5 micrometers in diameter)," he said, citing key measures such as improving the industrial structure, raising energy efficiency, reducing vehicle exhaust emissions and preventing and monitoring wind-borne dust.
The premier also pledged to establish a new anti-air pollution mechanism utilizing government, enterprises and the general public, as well as more coordinated efforts of affected regions in this regard.
Concerted efforts
"Smog must be tackled through coordinated efforts, as pollutants are transferred across regions by winds. Measures taken on by a single city will not achieve the desired result," Yu Rucong, a CPPCC National Committee member and deputy head of the China Meteorological Administration (CMA), told Beijing Review. "For example, air pollutants from the coal-rich Shanxi Province can be easily carried to Beijing by southwestern winds, bringing serious pollution to the capital city."
"The CMA has established a smog monitoring network, which takes air visibility, moisture and PM 2.5 concentration into account," Yu said.
In September 2013, the State Council, China's cabinet, released an action plan for air pollution prevention and control, which requires smog-prone regions surrounding Beijing, the Yangtze River Delta area in east China and the Pearl River Delta area in the south to take coordinated actions against heavy pollution.
Gao Yubao, another CPPCC National Committee member and President of Tianjin Normal University, called to establish a state-level mechanism to conduct regional consultations on environmental impact evaluations, launch crackdowns on environmental offenses, and coordinate information sharing, early warning and emergency response systems for severe pollution. He said that cross-regional emergency drills and training should be conducted regularly.
"Although the specific causes of smog are still in dispute, the general consensus is that vehicle emissions is a major source of air pollution," Li Can, an academician with the Chinese Academy of Sciences, told Beijing Review.
Li Can, a CPPCC National Committee member, said that real-time data show that PM 2.5 levels in downtown areas are remarkably higher than those in suburban areas. "Using low-sulfur fuel products can effectively reduce toxic substances in vehicle exhaust fumes, so the government should gradually raise fuel quality standards and demand that oil companies use cutting-edge technologies to produce low-sulfur gas and diesel.
In the government work report, Premier Li said that in 2014, 6 million old high-emission vehicles will be removed from the roads, and diesel meeting the National IV Emission Standard, which requires the maximum sulfur content to be no more than 50 parts per million, will be supplied across the country.