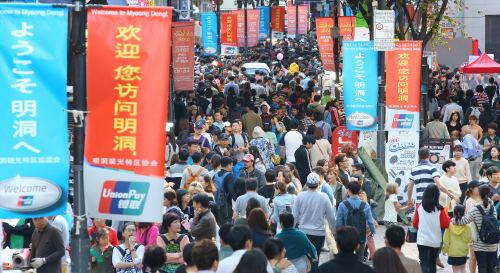 SPENDING ENTHUSIASM: Chinese tourists make up many of the shoppers in Myeong-dong commercial area in Seoul, South Korea, on October 3, 2014 (CFP)
Liu Ying, a 28-year-old website editor who tends to spend her holidays travelling around the world, just returned from her trip to South Korea with her brother, aunt and cousin.
"Except for meals, we pay all other bills by UnionPay credit card. During the one-week trip, we spent more than 20,000 yuan ($3,200) in purchasing jewels, designer label handbags, cosmetics and healthcare products. We didn't have to pay a service charge when swiping UnionPay credit cards to make purchases along the arcades in Seoul and had a tax refund remitted to our accounts at the airport for products with tax refund label," said Liu.
Founded in 2002, UnionPay is the only domestic bank card organization and interbank network in China. At present, the Shanghai-headquartered UnionPay has about 400 domestic and overseas associate members. By now, more than 4 billion UnionPay cards have been issued in the domestic market and 150 foreign countries and regions, with its global transaction volume hitting 41 trillion yuan ($6.56 trillion) in 2014.
Among all the foreign credit card brands in South Korea, UnionPay has experienced somewhat of a miracle in terms of expansion in recent years. According to statistics from the Credit Finance Association, UnionPay now accounts for roughly 60 percent of the amount of consumption made by overseas tourists in South Korea, rising from the 17.4 percent registered in 2011, far exceeding that of Visa and MasterCard.
If it is convenient, Chinese tourists now prefer credit cards to cash when shopping overseas, said Sheng Jinchun, General Manager of UnionPay International's branch in South Korea.
Since getting off the ground in Hong Kong in 2004, UnionPay has begun to form alliances and promote cooperation to break the monopoly on the global bank card transfer and clearing market held by international card organizations, said Ge Huayong, President of UnionPay International.
Success in South Korea
"To become a global payment brand, a substantial foothold is necessary. As far as UnionPay is concerned, its supporting strength comes from China's robust economic development and resident income growth in the past three decades," said Li Penglin, General Manager of UnionPay International Hong Kong Branch.
As the Korea Tourism Organization (KTO) predicted, the number of Chinese visitors to South Korea could hit 6 million in 2014, a year-on-year increase of 38 percent, rising sevenfold from 2005. "The amount of credit card payments through UnionPay in South Korea exceeded 10 billion yuan ($1.6 billion) in the third quarter of 2014, as opposed to the 100 million yuan ($16 million) registered in 2005," said Rui Xiaoheng, a financial commentator, who observed that UnionPay has managed to exploit the explosive growth of Chinese tourists and their increasing purchasing power to accelerate its expansion in South Korea.
In July 2013, UnionPay signed a memorandum of understanding with the KTO and South Korea's BC Card Co., agreeing to jointly establish a consumption service platform encompassing communication, traffic, sightseeing and shopping for Chinese tourists visiting Korea and make quick self-service tax refund available. So far, consumers can make payments through UnionPay credit cards in almost all South Korean merchants and withdraw South Korean won from more than half automatic teller machines (ATMs) in the nation.