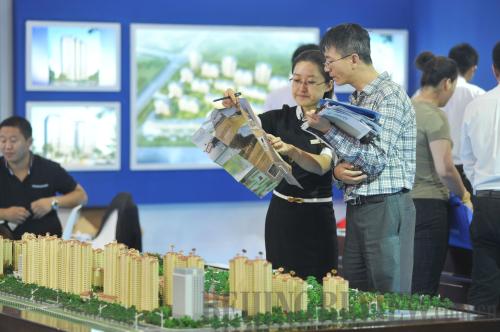 TO BUY OR NOT TO BUY: A potential home buyer consults on a residential property project at a housing expo in Beijing on September 19 (CFP)
Wang Xingli is a realtor in Beijing. Instead of resting during the seven-day National Day holiday (October 1-7), he followed a jam-packed schedule spent bustling about showing apartments to eager clients around the city's North Third Ring Road.
After several months of a sales slump, this business is exactly what he has yearned for. His potential clients' enthusiasm has been re-ignited as the People's Bank of China (PBC), the country's central bank, relaxed lending rules for home buyers right before the holiday.
Promoting the favorable lending policy has become the top priority for real estate agents like Wang. He even went as far as designing a PowerPoint presentation during the holiday to explain the new policy to his clients.
"Even the slightest cut in mortgage rates can save buyers a large amount of money. Immediately after the release of the new lending policy, many buyers called to consult me on its implications; some even cancelled their traveling plans for the holiday to view apartments. They are afraid that prices will go up in coming months. The sellers have also gotten tough, refusing to budge on price," Wang said.
On September 30, the PBC and the China Banking Regulatory Commission (CBRC) relaxed lending rules for home buyers, allowing banks to offer a maximum 30-percent discount to first-time home buyers, a group that has been expanded to include those who already own one property but have paid off their mortgage.
Prior to the announcement, second home buyers were required to place at least 60-percent down payments and mortgage rates were set at no less than 1.1 times the benchmark interest rate.
In 2011, skyrocketing home prices forced the Chinese Government to roll out restrictive measures, such as requiring higher down payments, increasing the lending rate for second home purchases and banning the purchase of a third home.
The new policy followed sluggish sales data, a slump in investment and continuously dropping prices in the property sector so far this year. In September, home prices in 100 cities monitored by the China Index Academy, a Beijing-based property research organization wholly owned by SouFun Holdings Ltd., fell 0.92 percent from August, the fifth consecutive monthly drop in 2014 and the biggest slump in four years.
Central authorities have also made it easier and cheaper for home buyers to use the housing provident fund. On October 13, central authorities said they will exempt notarial, guarantee and mortgage insurance fees as well as valuation charges for new and existing homes that are financed by the government housing provident fund.
Saving the market
The housing provident fund is a government-designed savings plan that allows Chinese workers and their employers to pay a part of their monthly wages into the fund to finance future home purchases. Starting from October 14, borrowers are allowed to use the fund to buy homes in their hometowns after paying into the fund in the cities in which they are working.
The easing of housing credit conditions marks a turning point in the nation's restrictive home purchasing policies. Experts say the gains of the policy remain to be seen in coming months and an industry-wide adjustment in the property sector is bound to persist in coming years.