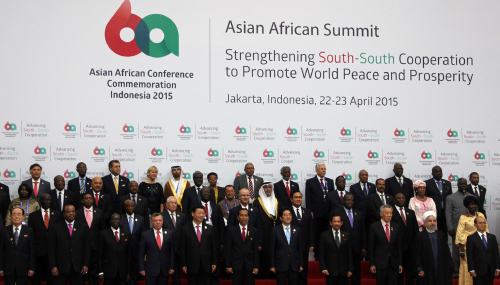 REGIONAL SUMMIT: Participating dignitaries pose for a group photo before the Asian-African Summit 2015 in Jakarta, Indonesia, on April 22 (CNSPHOTO)
Leaders and representatives from about 100 Asian and African countries as well as international organizations gathered at the Asian-African Summit 2015 in Jakarta on April 22 for the 60th anniversary of the historic Bandung Conference, formally known as the first Asian-African Conference.
With the theme of strengthening South-South cooperation to promote world peace and prosperity, the meeting presents an opportunity for Asian and African countries to exchange ideas for encouraging common development.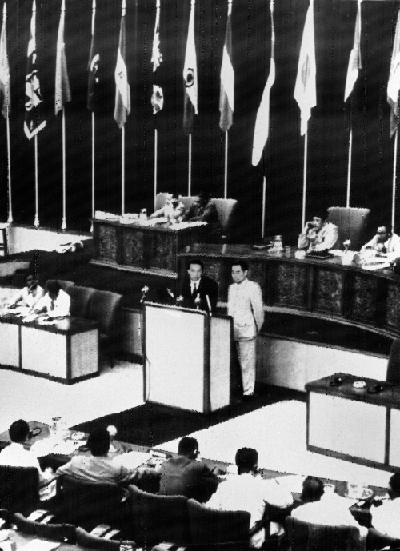 TRUE COLORS: Then Chinese Premier Zhou Enlai makes an extemporaneous speech during the Bandung Conference in 1955, in which he asserted that the Chinese delegation seeks unity and not quarrel, common ground and not divergence (XINHUA)
Sixty years ago, the Bandung Conference ushered in a new chapter in the tale of developing countries' struggle for world peace, national independence, economic development and social progress. Participants adopted 10 principles for handling international relations on the basis of solidarity, friendship and cooperation, which were termed as the Bandung Spirit.
Chinese President Xi Jinping delivered a speech at the opening ceremony of the summit, in which he put forward a three-point proposal on building a community of common destiny for all mankind--to boost Asian-African cooperation, to expand South-South cooperation in order to speed up development among developing economies, and to promote South-North cooperation between developing and developed nations.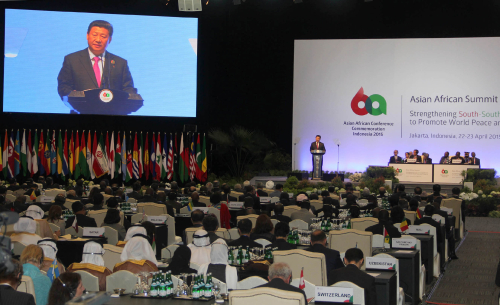 ALOUD AND PROUD: Chinese President Xi Jinping delivers a speech at the Asian-African Summit 2015 (GU SHIHONG)
Xi stressed that Asian and African countries should make the most of their complementary economic situations, deepen regional and cross-regional cooperation, offer convenient conditions for facilitating trade and investment, and eventually build a broad and comprehensive pattern of Asian-African cooperation.
"Asian and African countries have a huge potential for economic growth. To turn this potential into real growth, they need to create new opportunities for mutually beneficial cooperation," said Han Liqun, a research fellow with the China Institutes of Contemporary International Relations.
"South-South cooperation needs to seek a breakthrough to establish a new mechanism and finding a new approach responding to the changing global economy and trade," Han said.
As the second largest economy in the world today, China is willing to do more for the prosperity of Asia and Africa. Its initiative to build the Silk Road Economic Belt and the 21st-Century Maritime Silk Road aims to facilitate trade, investment and exchanges between Asia, Africa and Europe across both land and sea. The Asian Infrastructure Investment Bank (AIIB) proposed by China is a multilateral institution to finance the infrastructure development that is a common concern of developing countries in the region. Among the 57 founding members of the AIIB, 17 are participants of the Bandung Conference in 1955.
Each of China's initiatives is open to all developing and developed countries.
Xi also said that China will provide 100,000 training opportunities for developing countries in Asia and Africa in the next five years, and a total of 2,000 Asian and African youth will be invited to visit China and attend a series of exchanges.
"President Xi's Asia-Africa centered proposal at the summit implies China's vision and approach to helping improve the international order through international cooperation," said Zhai Kun, a professor at the School of International Studies under Peking University. "China hopes to promote balanced and inclusive growth of the global economy that can in turn benefit developing countries." 
Copyedited by Kieran Pringle
Comments to baishi@bjreview.com