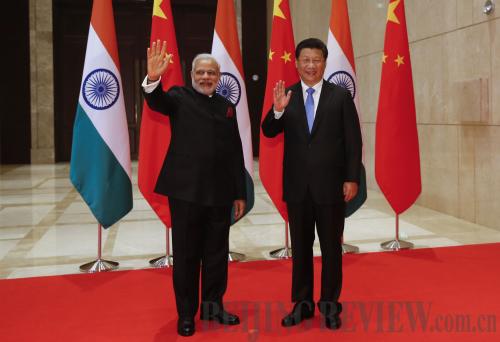 Chinese President Xi Jinping meets Indian Prime Minister Narendra Modi in Xi'an, capital of Shaanxi Province on May 14 (CFP)
"Hello China! Looking forward to interacting with Chinese friends through Weibo," said Indian Prime Minister Narendra Modi, before his first China trip as prime minister by joining the Chinese social media platform Sina Weibo—a cross between Facebook and Twitter.
The greeting, released a week before his May 14-16 visit, gained Modi tens of thousands of Weibo followers almost immediately and evoked energetic responses, mostly positive.
The responses can be seen as a metaphor for current Sino-Indian relations, a complicated relationship involving conflicting branches, border disputes and trade imbalance but also holding an overall positive connotation.
Against the backdrop of Sino-Indian relations, the high-level leaders' interactions between the two countries seem to focus more on economic cooperation.
On his Weibo account, Modi posted, "I believe my visit will lay foundation for the India-China economic cooperation in a wider range."
Some observers claimed that, by focusing on economic cooperation, the two neighbors are also seeking to strengthen mutual trust and tap the full potential of the bilateral relationship gradually and economically.
An economic forefront
In the past, for far too long, the tone of the Sino-Indian relationship has been much dictated by border disputes and international politics. In India, in particular, media coverage on China has been always occupied by border issues, while the voice for shaping healthy bilateral relations with China has been drowned out. But now, things seem to be changing with the rapid economic development and economic issues emerging onto the top list of China and India's bilateral agenda.
During Chinese President Xi Jinping's Indian trip last September, China promised to bring its biggest South Asian neighbor about $20 billion investment in the industry and infrastructure fields in the next five years, a big cake for infrastructure-trapped India. India's power crisis, as well as its shortage of land and sea transportation, have hurt India's potential economic development.
Modi's China trip this time also tilted more to economic issues. Prior to his touching on the Chinese land, the Indian prime minister told Chinese media based in New Delhi that he is looking forward to working out a roadmap for qualitatively upgrading bilateral economic relations and seeking greater Chinese participation in India's economic growth, especially in transforming India's manufacturing sector and infrastructure.
Modi's first stop in China was Xi'an, which is not only a renowned ancient capital but also reputed as the starting point of the ancient Silk Road, linking closely with the Belt and Road Initiative proposed by President Xi. In addition to participating in discussions with Chinese top leaders in Beijing, Modi also visited China's economic hub Shanghai, meeting Chinese business circles in an effort to attract more investment to his country.
Wang Haixia, a research fellow on Indian studies with the Beijing-based China Institutes of Contemporary International Relations (CICIR), said that Modi has attached a lot of importance to India's economic development after taking office, while trying to leverage the country's foreign policies to advance his domestic goal.
Additionally, Wang noted, economic cooperation is also a good tool to increase mutual trust between the two countries.
The narrative on China in India has been generally negative since the war between the two countries in 1962, Modi's robust engagement with China may gradually change that perception as the two sides work to deepen mutually beneficial economic cooperation.
When asked a question on China-India relations in a recent interview with the U.S. weekly news magazine Time, Modi said, "For nearly three decades there has been, by and large, peace and tranquility on the India-China border. Not a single bullet has been fired for over a quarter-century. Both countries are showing great maturity and a commitment to economic cooperation."
Chinese observers also noted that while the final settlement of the border row remains a time-consuming exercise, a set of rules for dispute settlement has been reached during the previous rounds of boundary negotiations. Meanwhile, the continually deepening bilateral economic interaction adds weight to both sides' border talks.
During Modi's stay in China, the two countries have signed about 170 agreements, including $10 billion of Chinese investments in India.
Actually, great potential for economic cooperation lies between China and India. The two economies are highly complementary to each other as one is called the "world's office" while the other the "world plant." Now China is promoting its economic restructure from manufacture to innovation and its going-global strategy with the Belt and Road Initiative while Modi proposed "make-in-India" strategy, which provides more space for bilateral cooperation.
The Belt and Road Initiative, comprising the Silk Road Economic Belt and the 21st-Century Maritime Silk Road, will eventually link China, Central Asia, Russia and Europe on land; and connect the South China Sea and the Indian Ocean in the West and to the South Pacific in the East. The initiative would add more than 60,000 km of road, including 4,070 km expressways, and improve the connectivity of the existing regional transportation network.
During talks with President Xi, Modi said India attaches high importance to communication in South Asia. India is ready to cooperate with China concerning the Belt and Road Initiative to promote the region's development and prosperity.
Mao Siwei, a former Chinese diplomat who has worked in India for many years, claimed that the substantial part of the Belt and Road Initiative is improving the infrastructure of regional countries with the help of China.
"China and India are now discussing India's railway speed increase and staff training, as well as the transformation of railway stations," said Mao at a roundtable meeting of Chinese and Indian officials and media personnel ahead of Modi's visit in Beijing in early May.