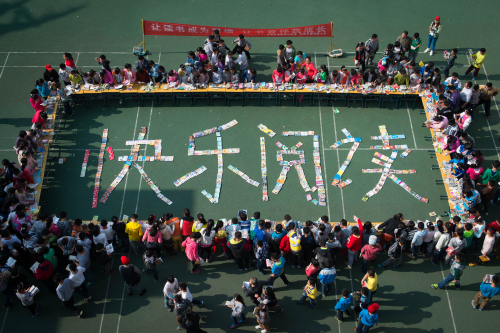 Pupils in Shenglilu Primary School exchange books on March 31 (XINHUA)
One year after opening Beijing's first 24-hour bookshop, Sanlian Taofen Bookstore (STB) opened a new branch in Beijing on April 23, World Book Day.
Started in 1996, STB eventually cemented itself as one of Beijing's cultural landmarks. When the company announced their bold round-the-clock retail plan in Beijing, few people saw the hope for success against the backdrop of Beijing's other bookshops closing down one after another with the arrival of increasingly popular e-book services. However, STB has gone on to prove even its harshest naysayers wrong.
"At first, we thought that as long as we could keep the business running, it didn't matter if it was profitable or not," said Zhang Zuozhen, General Manager of STB. But the first year ended up seeing a 58-percent increase in sales and a 111-percent increase in profits, leading to STB deciding to branch out.
Zhang expressed his confidence in the newly opened branch, located at Wudaokou in Beijing's north, a bustling area located near multiple universities, including prestigious Peking University and Tsinghua University.
Like the main store of STB, the new branch offers café service and holds reading salons frequently. The book selection in the new branch targets young and middle-aged readers.
"I am very excited that STB has opened a branch here," said Zhou Liangliang, a sophomore student from Tsinghua University. "I always wanted to go to STB main store at night, but it was a bit far away for us, now it is very convenient and it is like we have another off-campus library that is open around the clock."
Dropped book consumption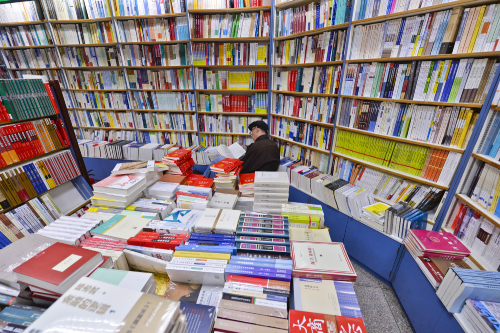 A customer reads in Sanlian Taofen Bookstore on April 23, World Book Day (XINHUA)
The 2014 and 2015 government work reports of China highlighted the need to promote reading nationwide, and encouraged it through favorable taxation policies and funding supports that have been implemented to help the country's bookstores.
"We will ensure that more outstanding works of literature and art are created for the people to enjoy, and encourage a love of reading in all our people to build a nation of avid readers," Premier Li Keqiang said in his government work report released on March 17.
Zhang said that STB broke the ice of 24-hour service in Beijing in 2014 with the government fund that exceeded 1 million yuan ($161,290).
Unavoidably, traditional bookstores have faced harsh competition from the e-book market. According to figures from STB, 10 years ago, the annual sales volume of Sanlian was around 25 million yuan ($4.03 million), while in 2011, the number dropped to 10 million yuan ($1.61 million).
According to a survey released by the Chinese Academy of Press and Publication (CAPP) on April 20, Chinese people read 4.56 books per capita in 2014, 0.21 less than the previous year, but the number of e-books read averagely is 3.22, 0.74 more than that of 2013.
"The number of books doesn't mean that much," said Zheng Yefu, a sociology professor at Peking University. "It is the quality, not quantity, that matters."
Zheng went on to quote Confucius: "Learning without thought is labor lost; thought without learning is perilous." Zheng followed up by musing that choosing a good book is the first step and a good book should be the one that helps you to ponder something in a more thorough and deep way and view the world from different perspectives. "But among the millions of books published every year in China, most of them are just rubbish," said Zheng.
"It's rare for me to go to bookshops now as I can't find what I want to read. Many of the books are written in the same style and have the same content, such as advice on how to rich and successful," said Chi Li, a 57-year-old writer. "We should ensure that more outstanding works of literature and art are created for the people to enjoy, and encourage a love of reading in all our people to build a nation of avid readers."
Although the importance of reading has been highlighted in the government report for two years in a row, Chi still remains concerned about the types of books people read. Though several local governments have invested money in building libraries, "It doesn't mean residents enjoy real reading," said Chi. "They hardly carried out any research before setting up libraries and had no idea about what books the readers in their regions like or need."
"People need to be guided to read high-quality books," said Zheng. "Some people don't like reading because during primary and middle school, students are limited to textbooks or reference books that are targeted only at getting high scores in exams. For them, reading reminds them of these books that they were hardly able to enjoy."
This phenomenon is also evident among the students at Peking University. Zheng always recommends a list of books to the students at the beginning of a semester but finds that almost nobody takes the list seriously.
"If you ask them whether they like reading, they might say yes, but what they read might be just random e-books they get online. Reading is a serious process, you need to digest what you read. Only good books are worth the process," said Zheng.
Devoted book lovers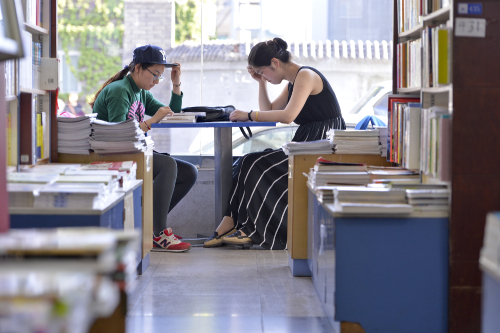 People read in the newly opened branch of Sanlian Taofen Bookstore in Beijing. The opening of 24-hour bookstore has been welcomed by the students and residents nearby (XINHUA)
Liu Zheng, a movie investor, insists sparing one hour for reading every day and shares notes with friends on WeChat. "Reading is a habit that I have maintained for years, but one that my busy work schedule almost stole from me."
Liu's reading covers a wide range including history, the movie industry, politics and psychology, among others. "No matter what your job is, reading can help to expand your world view and you may even find solution to your troubles in an unexpected way," said Liu. "I hear many complain that they are too busy to read, but reading and work are not mutually exclusive."
Liu has a collection of more than 500 books. "I actually bought many more than this, but give many away to friends. Sharing books is also a pleasure for me."
There is an ancient saying in China which goes "stealing books is not considered theft", which shows the nation's cultural priority for seeking knowledge.
Kang Xia, a book lover that lives in Beijing, is about to move to New York City soon. He has a collection of 1,741 books which he selected from many book stores around the world. He thought about how to deal with these piles of books and finally decided to sell them online.
"You just need to tell me your preferences and I'll pick some for you and mail the books to you. For 60 yuan ($9.7), you can get three books and for 90 yuan ($14.5), five. I assure you these are very high-quality books and you will get more than what you pay for," says Kang in the advertisement.
Kang posted the advertisement online on May 16, and within two hours, his bank account received more than 200,000 yuan ($32,258), far exceeding his expected number.
"It was more than a surprise," said Kang. "People swarmed to pay me money and I have to pay many of them the money back as I don't have any books to mail to them."
"It is a novel way to sell books and I saw his book list and was marveled by his selection. Some books were already out of print, I think that is why people were so excited," said Bai Xiaofei, a college student from Renmin University.
Some didn't understand it. "Why do they collect books?" pondered college student Xiao Yiran from Beijing Normal University. "All those 1,741 books can be stored in a Kindle and you can carry them anywhere you go. Why bother with buying and selling?"
Xiao said he had downloaded more than 100 books onto his Kindle after he bought it in 2012 but only finished seven.
Xie Yihai, a 32-year-old journalist who described himself as having "book fever," has a collection of more than 3,000 books. "I didn't read them all for sure, actually with some of the books, I just love the cover design."
Xie revealed that he earns about 10,000 yuan ($1,613) a month but spends about 3,000 yuan ($483.9) on buying books. "I tried a Kindle but it doesn't feel right for me. I love the smell of ink on the books and you can't get that from an e-book."
Creative bookstores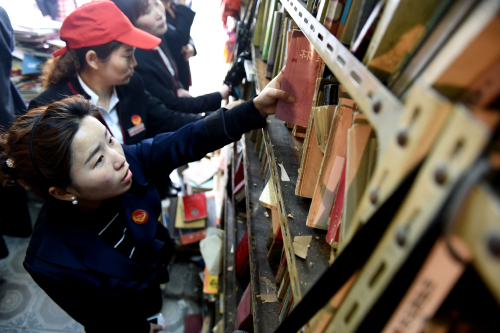 Readers browse through books in Zengzhi Bookstore in Hefei, Anhui Province, on April 13 (XINHUA)
Librairie Avant-Garde, a private bookstore in Nanjing, east China's Jiangsu Province, specifically spares an exhibition space in the store for book cover design collections.
Reported in 2013 by CNN as the most beautiful bookstore in China and listed as one of the 10 most beautiful bookstores in the world by BBC in 2014, Librairie Avant-Garde is a cultural landmark in Nanjing.
While traditional bookstores struggle to compete with the e-book market, Librairie Avant-Garde has paved a unique and modern path for its readers.
Located in an underground car park bordering Nanjing University, the bookstore doesn't sell commercial bestsellers, like those guiding people how to get rich and successful.
At the entrance of the bookstore, instead of a shelf displaying best-selling books, people are welcomed by a replica of Rodin's The Thinker sculpture and even the cashier counter is built from thousands of books.
"Independent book shops represent the wellbeing of the city," says 50-year-old owner Qian Xiaohua. "When a city loses its bookshops, it's actually losing something of its soul."
A large cross hanging on the wall makes the bookstore look like a cathedral to books. For Qian, reading is a religion and the bookstore is a heaven for book lovers. Unlike the other stores which are piled with books and leave little space for readers to sit down and read, in Librairie Avant-Garde, there are more than 300 seats neatly lining up right in the main hall of the bookstore for people to read with free water provided. It is more like a public library.
"I feel very comfortable reading in this bookshop and they don't discriminate against readers who just want to read," said Hu Shuheng, a student from Nanjing University. "It is very rare for a bookstore."
Qian first started his bookstore business in 1996, in a squeezed 17-square-meter room and then moved three times. In September 2004, the business moved to its current location. On the first day of business, the sales volume surpassed 100,000 yuan ($16,129), setting a record for private bookstores in China.
"In modern times, bookstores need to explore diversified business strategies," said Qian. "It is not the bookstores that are lagging behind, but the way they operate."
Inside, the bookstore houses a homey coffee shop, permanent exhibition space for book cover designs and a retail area dedicated to creative works by Nanjingers.
"What we do is to create wonderful reading atmosphere and let people love reading in this space. Librairie Avant-Garde has unintentionally become the city's tourist spot," says Qian. "Tourists come here to observe the culture of a city and to exchange cultures, and it's also become a new meeting spot in Nanjing."
Not as fancy nor as eye-catching as Qian's book paradise, Zhu Chuanguo's bookstore in Hefei, capital city of Anhui Province, has also captured the attraction of book lovers.
Zhu's bookstore, named Zengzhi Bookstore, is for secondhand books and has remained at its original location since 2000.
"It was the prime time for the secondhand book market when we opened it," said Zhu's wife Chen Guixia. "When the market continued to spiral downward from 2005 onward, many secondhand bookstores in Hefei just closed," said Chen. "We are the only one that didn't, and we are the oldest secondhand bookstore in Hefei so far."
For 53-year-old Zhu, a booklover since high school, the intended function of the bookstore is more like a place for making friends through books. This 20-square-meter emporium is packed with books that can be dated back to decades ago.
In 2013, Zhu was diagnosed with rectal cancer. A relapse in late February this year meant he had to return to hospital.
When his clients learned of this, they rushed to help and the story of the store was even reported by China Central Television. As news of Zhu and his store went viral, crowds of bookworms flocked the tiny 20-square-meter emporium, resulting in over 10,000 books, about a quarter of the collection, flying off the shelves in just 10 days.
Zhu and his wife later resumed the business. The bookstore owner has kept a diary for nearly two decades; a first-person account of his experiences, which includes notes on how to spot forgeries and how to price books.
Some of Zhu's friends and customers are hoping to finance the publication of Zhu's diary, so that more people can benefit from the passion the avid book collector has poured into his work.
"Zhu does not just sell books. His passion ignites people's love for knowledge," said Cheng Zhanpeng, a regular patron. "Zengzhi Bookstore is the cultural heart of our city."
 
Copyedited by Kieran Pringle
Comments to yuanyuan@bjreview.com