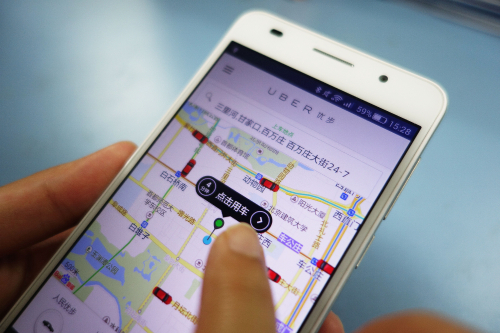 A passenger uses Uber to get a ride home in Beijing on May 13 (WEI YAO)
Uber's operations in China have come under intensified scrutiny as services offered by the company--which involve summoning private car owners to offer taxi-like services--go directly against local regulations.
On May 6, authorities in Chengdu, capital of southwest China's Sichuan Province, visited Uber's local office as part of a new investigation into the online taxi service. After the investigation, the company sent text messages to its drivers in Chengdu saying that its services have not been affected and they will continue actively communicating with authorities. However, its Chengdu office has been relocated from its original location.
The visit is the second one authorities have recently paid to Uber's China offices. On April 30, transport authorities in Guangzhou, capital of south China's Guangdong Province, raided Uber's office on suspicion of unlicensed operations and allowing private car owners to offer taxi services in violation of government regulations. A number of mobile phones in the office were seized for investigative purposes, according to reports from the Xinhua News Agency. The raid took place following protests by some taxi drivers in Guangzhou after Uber rolled out a new carpooling service called People's Uber in October 2014.
Uber's ride-hailing app is available in nine Chinese cities. Such services have become hugely popular in China's congested cities, particularly in the capital, Beijing, and the financial hub of Shanghai, where hailing a taxi on the street during rush hour can be all but impossible.
Ride-hailing apps have experienced skyrocketing growth in China, and the government has in recent months sought to regulate the business. In January, the Ministry of Transport said private car owners were forbidden to use the ride-hailing apps to pick up passengers for profit and only cars belonging to vehicle rental companies can be used for car-for-hire services.
To avoid clashing with policies, Uber claims that its People's Uber is a non-profit platform aimed at benefiting drivers and encouraging carpooling. To date, Uber's app service is still available across the country.
A Uber driver surnamed Chen told Beijing Review that Uber offers a substantial amount of subsidies to Chinese drivers to lure them to use the app.
"If you take more than 70 orders a week and the total revenue is less than 7,000 yuan ($1,130), Uber would subsidize you to make you weekly income no less than 7,000 yuan," Chen said.
Chen said that the service provided by Uber inhabits a legally gray area in China.
"In China, a privately owned car can easily get registered under a car rental company. Then, is it still illegal for such cars to offer taxi-like services? Also, People's Uber is a non-profit platform where drivers are partners to Uber, with no commission charge at all and a sizeable subsidy being offered to drivers. In addition, People's Uber is designed to encourage carpooling, something the government wants to encourage too," Chen said.
Going by Chen's comments, then, it's understandable why decisive action for or against the company has not been taken.
"Anyway, it's not clear cut and a lot of the legal issues are disputable," Chen said.
A bumpy ride
Established in 2009, the California-headquartered company allows users to get a taxi, private car or carpool from their mobile phones. The service allows users to find available private vehicles nearby and pay via the Uber app. To date, the company has services in more than 250 cities around the world.
According to a Wall Street Journal report on May 9, Uber could become the most valuable startup company in a new round of funding that could value it at more than $50 billion, beating Facebook's $50-billion record for the highest ever valuation for a private company, which it attained before its initial public offering in 2011.
Despite this unprecedented valuation, Uber faces multiple legal and regulatory challenges as it expands throughout the world. It seems that wherever it goes, its legitimacy is questioned. Though its passengers welcome its services, taxi companies and city regulators protest it.
The recent setback in China is one in a series of legal obstacles Uber has faced around the world in countries including India, Spain, Thailand, South Korea, France and Germany as well as in several states in its home country.
Uber is a comparative latecomer in China, where the number of mobile taxi-hailing app users is forecast to triple to 45 million by 2015 from 2013, according to Internet consulting firm iResearch. Last December, Uber gained strategic investment from Baidu Inc., China's search engine king.
In China, like elsewhere, the app has often sparked anger among licensed taxi drivers who protest against decreased profits caused by competition from private car owners. Also, Uber faces heavy competition from more established local apps backed by major investors.
Domestic firms Kuaidi Dache and Didi Dache, backed by e-commerce giant Alibaba and Internet giant Tencent respectively, have the lion's share in the online ride-hailing market. The two announced plans to merge in February, resulting in undisputable market dominance.
According to a report by Analysys International, a market research institute, Didi Dache and Kuaidi Dache had a combined market share of 78.3 percent in the first quarter of the year in terms of orders, while Uber only accounts for a meager 10.9 percent.
Uber's business model mobilizes idle private cars to offer taxi-like services. Although the business model has a good market prospect, it has a natural flaw--private cars don't have the qualifications to be commercially used and there would be many risks involved as those private cars are under zero government regulation.
Therefore, the Chinese Uber-like platforms Didi Dache and Kuaidi Dache both claim cars on their platforms are rented cars instead of private cars.
Moreover, Uber's local competitors Didi and Kuaidi have been given the official nod from Shanghai authorities.
Shanghai becomes the first city to legalize car-hailing smartphone apps as it plans to launch an official platform jointly operated by its traffic and transportation authorities, taxi companies and third-party car hailing service provider Didi and Kuaidi on June 1. Uber, however, is not included in the new platform.
Controversy
Although unlicensed private cars are prohibited from offering taxi-like services, demand for taxis at any time, whether day or night, has fueled the popularity of private taxi-hailing service providers.
As regulation on ride-hailing apps tightens, Uber-like apps, including Didi Dache and Kuaidi Dache, have also received warnings from local transport authorities to clear out illegally operating private cars on their platforms.
Cao Zhiwei, a real estate company chairman and member of the political advisory body of Guangzhou, said the taxi industry is to blame.
"For a long period time, passengers and taxi drivers have both been complaining. The ultimate reason is that the taxi industry is barely able to meet market demand and needs to be completely reformed," Cao said.
"Previously, government departments issued licenses to taxis. Now, the market should make the call in allocating resources. The government monopoly on licenses should be ended and all qualified individuals should be issued a license to improve the quality of their services."
Wang Limei, Secretary General of China Road Transport Association, said the legal status of ride-hailing apps that allow private cars to offer taxi services has been heatedly discussed worldwide.
"Private cars offering taxi services is just like unlicensed doctors offering medical care to patients, in a sense that they could bring convenience to people but there are lots of risks involved," Wang said.
That said, Wang argued that ride-hailing apps shouldn't be cracked down on as a whole.
"The Internet is only a tool. Just that some people use it for illegal purposes doesn't mean the Internet should be targeted. A clearer legal framework on the regulation of ride-hailing apps will give those cars a chance to be legalized," Wang said.
Li Yuheng, an analyst with market research firm CIConsulting, said private car owners joining the market would greatly mobilize resources and is the fastest and most economical way to expand the market.
"That's why so many private cars are joining ride-hailing apps, and those apps would turn a blind eye to those illegally operating cars," Li said.
"Cars belonging to the rental company can hardly be expected to fulfill the enormous market demand, therefore they are greatly holding back market development," Li said, suggesting the government loosening controls of the market.
Chen, the Uber driver in Beijing, said Uber needs to localize.
"There have not been enough marketing efforts in China; therefore it only accounts for a tiny market share. Another shortcoming is that its user interface (UI) is too Western-style and hasn't been tailored to Chinese users," Chen said. "The UI is too concise, with many functions being concealed, while Chinese users are used to all functions being unfolded in front of them." 

Copyedited by Kylee McIntyre
Comments to zhouxiaoyan@bjreview.com