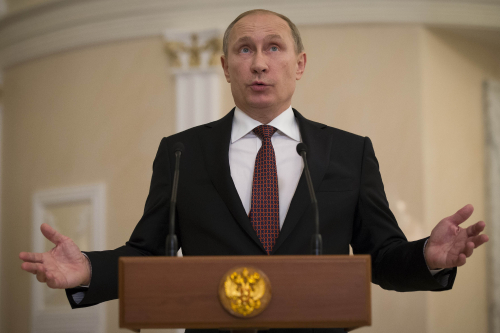 MAKING A DEAL: Russian President Vladimir Putin speaks to the media in the Belarusian capital Minsk after a summit aimed at ending 10 months of fighting in Ukraine on February 12 (XINHUA/AFP)
Russia regards Ukraine as an important member of the CIS owing to its geopolitical significance as a buffer between Russia and NATO. But the pro-Western forces in Ukraine have grown in strength, having ousted the pro-Russia President Viktor Yanukovych and accelerated the campaign to join the European Union and NATO. Responding to the perceived security threat, a strong sense of national pride trumped domestic disputes among the Russian people. The whole nation rallied around Putin, leading to skyrocketing approval ratings.
Russia's political opposition has gradually shrunk from the domestic spotlight and their voice have been drowned out by concerns over the imminent external security threat, which could explain why Nemtsov's murder has not triggered a radical response in Russian politics.
Possible effects
Many Russian people first suspected that the West may have had some involvement with the murder of Nemtsov, in an effort to cast doubt on Putin's rule. However, on March 8, five suspects were arrested by police in connection with the politician's assassination. The prime suspect, Zaur Dadaev from Chechen, confessed his involvement in the murder and said he organized the crime in revenge for Nemtsov's "negative comments on Muslims and Islam," Russia Today reported.
Some local investigators have raised other possible motives for Nemtsov's murder, ranging from a political provocation to his business activities and personal life.
Regardless of the motives behind the murder, the distrust between Russia and the West is likely to persist for the foreseeable future. In recent years, the Western media has repeatedly demonized Putin and attacked his domestic policies, but his government remains stable. Many Russian people believe that the West is colluding to weaken Russia's leadership in CIS and contain its economic rise. The Ukraine crisis presented an opportunity for Russia to counteract the eastward expansion of NATO--the annexation of Crimea and support for armed forces in the country's eastern areas postponed Ukraine's plan to join the EU and the NATO indefinitely.
On March 6, NATO flexed its muscles in a military drill in Latvia near the border with Russia, showing that the standoff between Russia and the West is unlikely to abate anytime soon. Nemtsov's murder stands as yet another development in the ongoing tensions between Russia and the West.
The author is an associate research fellow of Russia studies with the Chinese Academy of Social Sciences
 Email us at: liuyunyun@bjreview.com