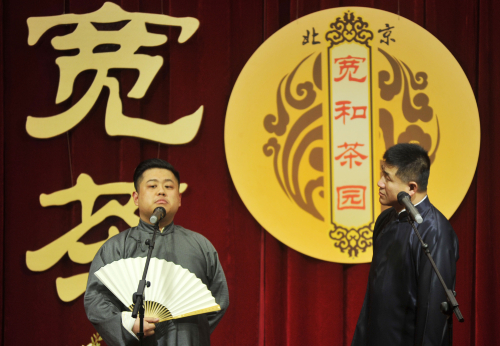 THE ODD COUPLE: Li Kuan (left) and his partner perform in a Beijing theater on November 14 (WEI YAO)
It's 9:30 p.m. on a Friday night. Over 100 audience members casually sip tea while taking in the performance of a comedic dialogue showcasing the traditional Chinese linguistic art known as xiangsheng, or crosstalk. Li Kuan, a 28-year-old crosstalk performer, and his partner engage in snappy interactions with the audience while poking fun at one another. Li seizes everybody's attention when he starts to imitate the aria of a famous Peking Opera master.
A ringtone blaring pop music suddenly interrupts proceedings. Unperturbed, Li Kuan ignores it and finishes his improvisation. "See, although the music accompaniment was wrong, my rhythm was still quite accurate, right?" He jokingly remarks to the audience.
Li Kuan is representative of the new generation of crosstalk performers. In this generation, both performers and audiences have varying opinions on this performing art. But this is nothing new or especially alarming: The form has a long history of evolving with time.
Performance anxiety
Crosstalk's history can be traced back to hundreds of years ago. It began as a folk art involving singing and talking that originated in north China. Initially, crosstalk was performed by a sole actor. By the early 1910s, it developed basic performance patterns. It can be staged as a single-person monologue, a two-person dialogue or a multi-person performance. Compared to Western stand-up comedy, crosstalk requires a greater number of skills. Performance skills can be divided into four categories: talking, imitating, telling jokes and singing. This art form has attained popularity, particularly in north China, owing to its ability to elicit giggles from audiences—even radio audiences—instantly, and showcase the unique charms of the Chinese language.
"Crosstalk has gone through different periods of development," senior crosstalk performer Meng Fangui said to Beijing Review. He recalled that in the 1980s, crosstalk experienced a period of blossoming. Many crosstalk masters emerged and rose to prominence with their various popular works, said Meng. With the development of TV programs showcasing variety entertainment, crosstalk became a kind of entertainment mainly broadcast on TV instead of being performed live as it had traditionally been. It was not until the 2000s that the form entered a new period of renaissance.
Meng pointed out that TV is a double-edged sword for crosstalk. On the one hand, TV has popularized this performing art, and opened it up to a whole new audience who is for various reasons unable to attend live shows, Meng said. On the other hand, the time constraints inherent in TV broadcasting negate the essence of a form that engages audiences in this manner, he added. "Although this doesn't affect crosstalk's performance skills in an artistic sense, it destroys the completeness of a crosstalk piece," said Meng.
Generally, a complete crosstalk piece should have an intricate structure comprising dozens of minutes of performance. Actors deliver the punch lines of their jokes in accordance with the audience's reactions and the dictates of comic timing. "When a crosstalk piece is shortened into a segment of a TV program, it has to omit a lot of the content it should include," Meng explained. "Besides, people have so many entertainment options now and their attention spans have shortened."
In 2003, veteran crosstalk actor Li Jindou started an initiative entitled Getting Crosstalk Back Into Theaters, believing this represents the best way to revive crosstalk's fortunes as a performing art. Since then, watching crosstalk in small theaters has become somewhat a craze in Beijing. Every year, a national crosstalk contest is hosted by Beijing TV.
Meng observes that younger generations have better educational backgrounds than his generation did. "I believe they will have a bright future. The only thing I would plead of them is to stay away from bad influences such as vulgarity or drugs. Maybe the older generation will need to learn from them in the future. Crosstalk is an art that has continually evolved with each successive generation," he said.