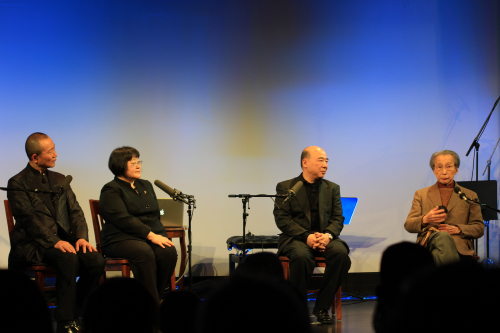 SHARING A DREAM: Composers Tan Dun, Chen Yi, Zhou Long and Chou Wen-Chung (left to right) at an event hosted by the New-York Historical Society on January 10 (ANQI SHEN)
What value can be ascribed to a once-in-a-lifetime opportunity? The opportunity of a teacher who fosters a talented student that touches the entire world with his gift of music. This is the story of Chinese American composer Chou Wen-Chung and the opportunity he gave to three young Chinese composers--Tan Dun, Zhou Long and Chen Yi--who have gone on to win some of the highest and most coveted artistic awards in their field.
"Life is a dream," said Tan Dun, winner of a Grammy Award, an Academy Award, Grawemeyer Award and many other accolades for classical music, taking the stage on January 10 at the New-York Historical Society for a program titled From China to America. "It's so beautiful."
A musical journey
Tan, Zhou and Chen first became acquainted with Columbia University Professor and composer Chou as students at the Central Conservatory of Music in Beijing in the 1970s.
At the end of the 1970s Chinese American professors frequently came to Beijing to see the rise of the first generation after the "cultural revolution (1966-76)." Professor Chou encouraged us to see the whole world. At that time, we had no idea what was happening beyond Beijing, what the world was like. So we gave him scores and recordings on cassette tapes. He told us to learn from the best and equip yourself spiritually with what other people know and you will recognize yourself more deeply and truly," said Tan.
Rooted in the tradition of cultural exchange through the Silk Road, Chou taught his students to open their minds to Western masters as they developed their own unique compositions. The three fledgling composers were selected by Chou to continue their studies at Columbia University in New York.
Chou shared with Beijing Review the reasons why he selected each composer. First selected was Zhou, "highly recommended by every leader that you could think of in Beijing," Chou said. Though Zhou was diligent, he was "unhappy" in New York.
"I asked him what was the matter and he said he was married--I didn't know he was married--and that he couldn't possibly live and compose when his wife Chen was not with him." Chou said. "As the professor in charge of admissions, this was a little difficult for me to respond to, but in order to keep him in good health, I had to offer an invitation to his wife--who, I soon discovered, was the other half of this composing duo, and it turns out that she was equally highly recommended. I'm glad we are all composers together now."
When Chen arrived, Chou was surprised to learn she had never composed for traditional Chinese instruments and promptly required her to compose a piece for the pipa. Her devotion and tenacity impressed Chou.
"Tan Dun was even more dramatic. He would do things that no one else would ever dream of. I was hit with it the moment I met him. I attended a concert in Beijing and I felt a tug on my shirt as I was sitting down. I turned around and it was someone making a gesture for me to come out. It was Tan Dun and he told me that he could not submit his scores to me because his faculty professors felt he was 'not following the correct direction,'" Chou said. "I helped him come to Columbia University."
The three Chinese students soon settled into a routine of lectures, composing and regular meetings with Professor Chou to discuss life, philosophy, food and art. Most of these discussions took place over wonderful meals that became a metaphor for the art of producing original music.
"Like a cook really looks at the ingredients and recipes, I remember thinking that if I really wanted to know Professor Chou's secrets for composing songs, I have to deconstruct them. I have to find out what is the garlic, what are the spices," said Tan.
Composing is also like the art of calligraphy, Chou said, and both are a form of personal expression. Each note is like a brush stroke, connecting melodies into a complete song. Before beginning, the calligrapher makes sure his paper is weighted and his ink and brushes are placed properly, and spends a long time adjusting the ink on his brush, all the while thinking of each stroke he will make on the paper.