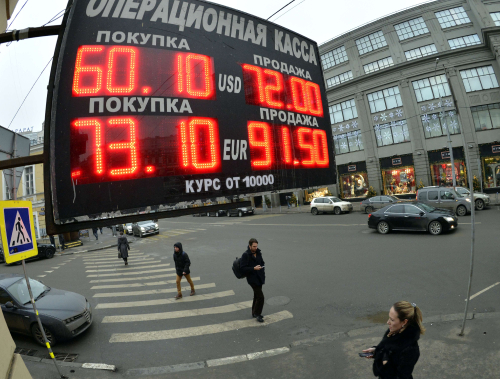 SHARP DROP: Pedestrians walk under a sign listing foreign currency rates against the Russian ruble outside an exchange office in central Moscow, as the nation's depreciating currency intensifies troubles for the Russian economy (YURI KADOBNOV/CFP)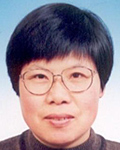 The global economy faces an uncertain future in 2015, marked with the prospect of weak growth. Challenges include a potential rate hike by the Federal Reserve, low bulk commodity prices in the international market and growing risks among emerging economies. These trends are leading to a "new normal" of the world economy featuring the end of stimulus-driven recovery, the beginning of rebalancing and the lack of cyclical expansion.
All economies are bogged down in the mud of restructuring and transformation, faced with falling potential growth rates while missing the necessary impetus and vitality for economic growth.
Medium-to-low growth
Despite growth rates that fell below expectations, the world economy didn't collapse in 2014. However, the U.S., European and Japanese economies all experienced seasonal contraction; the performance of BRICS countries (Brazil, Russia, India, China and South Africa) and other emerging economies as a whole was barely satisfactory; bulk commodity prices remained low due to sluggish demand and the strengthening U.S. dollar; and international oil prices have dropped sharply while OPEC members decline to reduce output.
Currencies in Russia and some other emerging economies depreciated sharply, accelerating capital outflow and spurring an atmosphere of panic. Since the beginning of 2015, the international oil prices have continued to drop, but Russia has temporarily won the battle to defend the ruble--providing a bit of solace for the global market.
According to the World Economic Situation and Prospects 2015 issued by the United Nations in January, the global economy is expected to grow 3.1 percent in 2015 and 3.3 percent in 2016, compared to an estimated growth of 2.6 percent for 2014. Trade growth is expected to pick up moderately with the volume of world imports of goods and services projected to grow by 4.7 percent in 2015. This is consistent with a previous forecast made by the International Monetary Fund (IMF). For the past two years, their forecasts have likewise been too optimistic. The environment for global economic growth may be worse than expected, but the world economy will be able to maintain moderate growth.
The world economy is not entirely static. Most emerging markets continue growing rapidly, such as China, India, Indonesia and Sub-Saharan Africa, and among developed countries, the United States and the United Kingdom are both seeing a powerful recovery. Furthermore, relaxed monetary policies and sharp fall of oil and other bulk commodities will push up global economic growth in 2015. These favorable factors are enough to avoid another recession.
Meanwhile, international trade and investment are still growing, economic globalization maintains momentum, and regional economic integration is intensifying.
The China-initiated Silk Road Economic Belt and the 21st Century Maritime Silk Road, the Asian Infrastructure Investment Bank, the Silk Road Fund and infrastructure connectivity will all boost investment growth and promote trade and personnel exchange in Asia, and stimulate economic and trade activities in other regions.
Uneven development
The world economy is now in a state of slow and unbalanced growth, which applies to both developed countries and emerging markets. Among developed economies, the United States, Europe and Japan are undergoing recovery at different paces, with the U.S. economy recovering most powerfully.
According to the IMF forecast, after registering a growth rate of 2.2 percent in 2014, the U.S. economy will grow by 3.1 percent in 2015, the highest among the Group of Seven. Steady internal impetus, powerful private consumption, recovered real estate and labor markets, robust industrial growth and strengthened financial supervision will prop up sustained recovery in the United States.
The Japanese economy grew by only 0.9 percent in 2014 and may grow at an even slower pace of 0.8 percent in 2015--and with the failure of Abenomics, Japan's economy seems poised to enter the third "lost decade."
Economic growth in the eurozone was only 0.8 percent in 2014 and may rise to 1.3 percent in 2015, but structural and institutional constraints still exist.
In terms of both economic growth and political relations, Europe will face severe challenges in the year ahead. In fact, the sovereign debt crisis has seriously hurt the European economy. All-round recovery in the crisis-hit countries does not appear to be on the horizon, and major economies such as Germany and France are also unable to pick up steam. The recent depreciation of the euro further intensifies deflationary pressures in the eurozone.