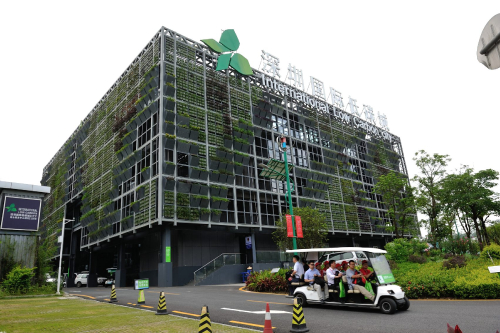 An electric vehicle operates in the Shenzhen International Low-Carbon City (CFP)
Plant-covered buildings, benches made from paper packaging, solar and wind-powered street lamps and roads equipped with water collection and filtration systems—all these novelties together make up an intriguing scene in the Shenzhen International Low-Carbon City, the first experimental eco-community of its kind in China.
Located at the shared border of three cities in south China's Guangdong Province—Shenzhen, Dongguan and Huizhou, the low-carbon city covers an area of 53 square km after completion, with 1 square km in its core region as an initiating zone. At present, the low-carbon city registers an annual growth of 27.62 percent and 26.5 percent in gross domestic product (GDP) and industrial value-added respectively, with hi-tech enterprises making up 40 percent of the total in the initiating zone, reversing the area's former position as a laggard whose GDP accounted for a mere one fifth of Shenzhen's average and whose carbon emission intensity doubled the average level.
The initiative represents the results of China's endeavors to practice a green development model and cope with global climate change, a challenge confronted by all human beings. "We've taken a series of measures to improve energy efficiency, optimize industrial and energy structure, promote the forest carbon sink and push forward low-carbon development pilots," said Zhang Yong, Vice Minister of National Development and Reform Commission (NDRC), adding that the carbon dioxide emission per unit of GDP in 2014 went down by 15 percent from the previous year.
However, at the current stage, economic growth is still the top priority to the world's largest developing country, and efforts should be made to work out a low-carbon development pattern to strike a balance between economic growth and environmental improvement, Zhang said.
"At present, China needs to reach equilibrium among national security, economy bearing capacity and environment. To this end, establishing a low-carbon development model is essential," said Liu Yanhua, former Vice Minister of Science and Technology.
Bold attempt
Cities are places of intensive energy and resource consumption as well as intensive greenhouse gas emission. The rate of urbanization in China just surpassed 50 percent, far lagging behind the developed world. Therefore, urbanization will be a major source of carbon emission in China, said Zhang.
In 2012, Xu Qin, Mayor of Shenzhen, came up with a suggestion to practically push forward partnership on sustainable urbanization with parties from the European Union, laying an emphasis on the planning and building of Shenzhen International Low-Carbon City with the Netherlands.
As Shenzhen's gateway to the northeast, the low-carbon city stands at the junction of two expressways, a highway and a subway line. Its design fully incorporates the concept of low carbon. "Its convention center alone utilizes 10 green technology systems and 78 low-carbon technologies, and has realized zero pollution," said Li Angang, Deputy Director of the Planning and Construction Office of the Shenzhen International Low-Carbon City.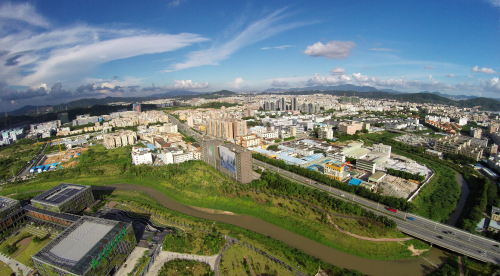 A panorama of the Shenzhen International Low-Carbon City (CFP)
In the past three years, a special industrial pattern has taken shape, with aerospace, life and health industries as the leaders, and equipment manufacturing, low-carbon service, energy conservation and environmental protection as the kingpins, said Li, confirming that the Southern Research Institute of the Space Technology, the Space Technology Specialist College and the Aerospace Science Park will move into in the low-carbon city, and that two national platforms for aerospace technological innovation and achievement transformation have been built to facilitate scientific research in the areas of medical science, hygiene and space ecology.
In developing a low-carbon recycling economy, a distributed energy station is nearing completion. The station takes an intelligent grid as the core and is assisted by the utilization of all renewable resources in the initiatory zone, such as polluted water, garbage, solar and wind power.
Unfinished work
"Emission reduction can be achieved directly or structurally. Direct emission reduction refers to cutting carbon dioxide discharge, such as promoting electric cars, while the latter can be realized through adjustments of industrial and energy structures and intra-industry upgrading," said Ma Xiaoming, a professor from the School of Environment and Energy of Peking University, noting that structural measures usually cost less than direct ones.
As China's economy enters a new normal, the old resource-intensive development model has failed to prop up robust growth as it did in the past. "Innovation, instead of production factors, should become the new engine for stable and sustained economic development," said He Jiankun, Deputy Director of the National Expert Committee of Climate Change of China, who reminds those GDP-obsessed government officials not to slip back into the old ruts.
"For some hi-tech enterprises in Shenzhen, such as Huawei, ZTE and Biel Crystal, carbon intensity is going down, and value-added is climbing," said He, arguing that innovation can spark changes in terms of the range of products available and market structure.
In addition, a sustainable low-carbon city needs to make sure its buildings, residents' behaviors and infrastructure are suffused with low-carbon ideas, said Qiu Baoxing, former Vice Minister of Housing and Urban-Rural Development. That is to say, the concept needs to be thoroughly implemented in transportation, construction garbage disposal, etc.
However, the current situation is far from satisfactory. "Cities tend to expand in a blind and inefficient way. For example, owing to the separation of industry and residence, people have to travel long distances to their workplaces, and a low-carbon public transportation system has not yet come into being," said Jiang Zhaoli, Deputy Director of NDRC's Department of Climate Change.
"Of all the aspects, water conservation is the most frequently overlooked. Humans would struggle without sufficient water resources. But now water shortages, damaged water ecology and urban waterlogging have posed a severe challenge to the well-being of Chinese people," said Qiu, who believes low-carbon cities should first become sponge cities to effectively collect and use rainwater. That is to say, wetlands, parks, buildings and communities should work as distributed reservoirs to absorb and store water resources.
To simultaneously push forward industrialization and urbanization and keep climate change under control, over 40 provinces and cities have been recruited into the low-carbon pilot program.
"For China, low-carbon development is not just an international obligation, but also an inherent requirement of sustainable development," said Jiang.
Copyedited by Kylee McIntyre