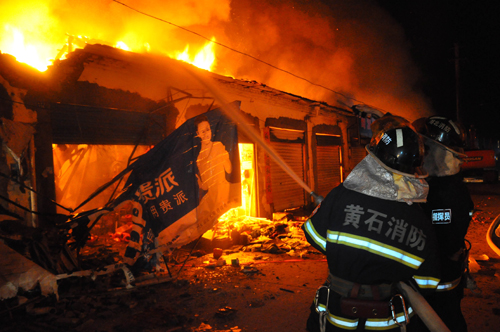 BATTLING THE BLAZE: Firefighters are putting out fire in 14 shops in a town in Huangshi, central China's Hubei Province, on June 21 (CFP)
Although firefighting is a career filled with danger and sacrifice, the loss of two young firefighters who fell to their deaths while battling a high-rise apartment blaze in Shanghai still shocked and moved the country.
On May 1 afternoon, Qian Lingyun, 23, and Liu Jie, 20, were trying to extinguish a 13th floor blaze sweeping through an apartment block when tragedy struck.
A member of the public captured the tragic moment when the pair were swept off a balcony. Another anonymous witness said that one firefighter was pushed toward the balcony by a sudden explosion before his colleague tried to grab his hand and save his life. However, the weight was too much for him to hold, and the pair were pulled from the apartment and fell to the pavement below.
Their deaths unavoidably dealt another tragic blow to the city's fire department, which had already lost two young firemen, aging 18 and 23 respectively, earlier this year. On February 4, the two were killed by a building collapsing while they worked to extinguish a warehouse fire.
According to the Ministry of Public Security, 144 firefighters from the armed police forces died on duty between 2008 and 2012. According to a report by People's Police magazine in 2013, the average age of firefighters who have died in the line of duty since 2006 was 24, with the youngest being only 18 years old. In comparison, of the 25 career firefighters killed in the United States in 2013, only five were younger than 30 and only five had less than five years of service.
Ma Tingguang, an assistant professor of fire prevention and safety technology with Oklahoma State University of the United States, said that the deaths of the heroic pair might have been avoided if they had had a better knowledge of backdrafts--an explosive resulting from rapid re-introduction of oxygen to a fire in an oxygen-depleted environment, such as the breaking of a window or opening of a door to an enclosed space.
He went on to say that the tragedy highlighted a major issue among China's firefighting forces: the majority of firefighters in China are soldiers of the armed police forces, who devote their two-year military service to the learning process of putting out fires and saving people's lives during natural disasters. While only a very small proportion of these firefighting soldiers can be promoted to officer positions and have an extended fire service career, firefighters in China are mostly young and inexperienced, which partly explains the high casualty rates.
Jin Weiping, the fire chief of Yuncheng, north China's Shanxi Province, told Banyuetan, a biweekly magazine produced by the Xinhua News Agency, that most firefighters in his firehouse are barely out of their 20s, have little experience and are equipped with only a limited knowledge of self-protection in the field. "Many of them grow to be more experienced at the end of their military service. A firefighter's short career in China is inconsistent with the increasingly arduous challenges that need experienced personnel," said Jin.