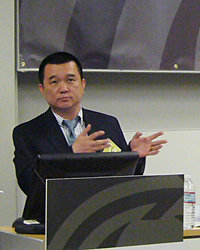 Gao Quoqiang answers questions from panelists (DING WENLEI)
Six leading environmental entrepreneurs from emerging markets including China, Mexico, Brazil and India demonstrated their latest efforts to make money by "going green" at the New Ventures Global Investor Forum, held on April 6 in New York City.
The forum, themed "Green Opportunities in Tomorrow's Markets," provided a platform for environmental entrepreneurs to explain how to court investors for environmentally friendly ventures. The World Resources Institute (WRI)'s New Ventures program teamed up with the New York University's Stern School of Business and Citi Foundation to host the event.
Businesses discussed during the forum ranged from agricultural biotechnology companies to steam purification and water treatment ventures.
While impressing the audience with their businesses' energy-efficient performances, the six entrepreneurs explained their business models and discussed potential risks, profitability prospects and future expansion plans during their presentations.
Ecostar, a Nanjing-based Chinese company represented at the forum, is China's only authorized importer of used photocopiers. The company generally buys used copiers at 5 percent of their original price and sells refurbished ones at 20 to 30 percent of the original price.
Ecostar's founder and board chairman Gao Guoqiang, an engineer turned entrepreneur, said that Ecostar has no competitors in the industry, although the company is currently deep in a price war with copier "smugglers" who manually refurbish copiers for resale. The company has helped the government devise national standards for photocopier recycling and refurbishing in China.
Gao said that as a manufacturing powerhouse with advantages in cheap labor and a complete supply chain for the photocopier industry, China is the ideal destination for businesses that specialize in photocopier refurbishing and reselling.
Gao added that Ecostar has made remarkable contributions to energy conservation efforts in China by slashing its output of wastewater and solid waste by 60 to 80 percent. Photocopiers refurbished by his company can have their lifespans extended by six years, he said.
During a question-and-answer session after the presentation, five panelists from research, investment, business and environmental groups pressed the entrepreneurs for more details about their environmentally friendly enterprises.
The New Ventures program has held similar forums in Brazil, China, India, Mexico and other countries, and has showcased over 250 environmentally-focused companies. As the WRI's center for environmental entrepreneurship, New Ventures provides business development and investment facilitation services to high-growth, environmentally-focused small and medium-sized enterprises (SMEs) in dynamic emerging markets.
(Reporting from New York)