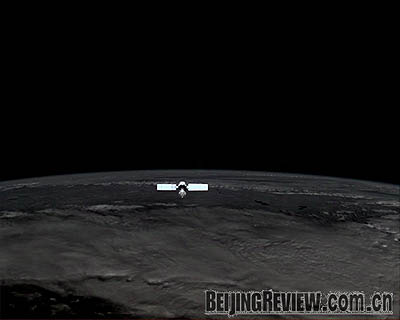 THE LONG VIEW: The satellite that accompanied Shenzhou 7 has sent back more than 1,000 photos of the spaceship from different angles since it was released on September 27 (XINHUA)
The BX-1 satellite that accompanied Shenzhou 7 on its historic mission last month has taken and sent back 1,000 photos of the third Chinese manned spaceship from different angles since it was launched on September 27.
Officials said all the pictures are clear and complete. "The first photo the satellite sent back is in color and the rest are black and white," said Zhu Zhencai, chief satellite designer.
Zhu explained that the first picture was taken in color without any condensation to test the color function of the cameras. The other pictures were condensed in black and white to reduce the transmission flow when sending them back.
"For example, an average color picture is about five megabytes, while a black and white one of the same resolution and articulation is only one fifth of the magnitude, say, one megabyte," Zhu said. He added that color is less important to scientific research than the picture's resolution and articulation.
The BX-1 satellite rode Shenzhou 7 into space on September 25 and was released two days later, after Chinese astronaut Zhai Zhigang returned from the country's first spacewalk. The satellite took its first photo six seconds after being released.
Since September 30, the Beijing Aerospace Control Center changed the satellite's track six times to gradually draw it closer to the Shenzhou 7 until it successfully circled the orbital module.
Sample Study
Chinese scientists have obtained and unpacked a box of solid lubricant samples that were aboard the Shenzhou 7 spacecraft, which they will study over the next six months.
In an interview with Xinhua last month, scientist Liu Weimin said the spaceship carried 11 samples of three different types of lubricants. The samples were affixed to the exterior of the spacecraft to test their reaction to conditions in outer space.
"Two types of solid lubricant samples, after being exposed to outer space during the Shenzhou 7 mission, had shown obvious changes," said Liu, head of the Lanzhou Institute of Chemical Physics in northwestern Gansu Province. "The appearance of the two types of samples has either turned dark or become rougher."