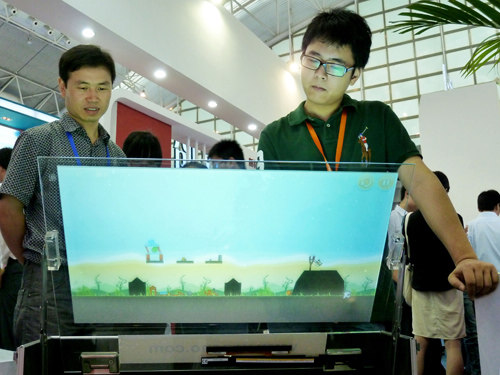 NANO FILM: An enterprise in Nanjing, capital of east China's Jiangsu Province, has invented a nano material film that can turn any common glass into a touch screen. It's seen as a great revolution in human-computer interaction (CFP)
Nanotechnology is the buzzword among international scientific researchers. However, despite the fancy label, nanoscience isn't something for the future; it's already been used in dozens of products. Products using this technology are now available on ordinary supermarket shelves across China.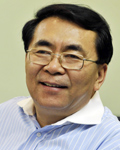 Bai Chunli (CFP)

"Nanoscience and technology has stepped out of the lab and into the society to bring more convenience to people's everyday life," said Bai Chunli, President of the Chinese Academy of Sciences (CAS) and chief scientist of the National Center for Nanoscience and Technology.

Most people, however, still struggle to identify nano materials.

"First, you have to examine whether the material is within one nanometer to 100 nanometers; second, you have to check whether it has characteristics that traditional materials don't possess," said Bai, citing the example of the oil-proof nano-material tie he wears. A shake of the tie will cause any liquid drops such as milk, ink and oil on it to fall like dew does from lotus leaves, without staining the tie.

"The seemingly self-cleaning effect of lotus leaves vividly demonstrates how 'the nano structure' works," said Hou Jianguo, President of the University of Science and Technology of China, who is also an expert in nanoscience and technology. "Scientists discovered that lotus leaves and flower petals have a nano structure, which prevents the penetration of dust and water. This is the famous 'Lotus Effect.'"

China has successfully integrated its expertise in four dominant technologies of this century: nanotechnology, biology, information and cognition. Technologies developed from that integration are believed to have enormous influence on the human society in the near future.

"China is now in a leading position in terms of the number of published papers on nanotechnology, the frequency of papers' being cited, the number of nanotechnology patents, and the frequency of authorizing others to use patents," said Bai at the International Conference on Nanoscience and Technology, China 2011 (ChinaNANO 2011), which opened on September 7.

Over the past five years, Chinese scientists published 34 percent of Science Citation Index theses on nanoscience and technology.

"These papers have been cited more than 80,000 times, second only to papers from the United States," said Mihail Roco, Chair of the US National Science and Technology Council subcommittee on Nanoscale Science, Engineering and Technology. Roco and Sumio Iijima, Japanese physicist and the discoverer of carbon nanotubes, received the China NANO Award at ChinaNANO 2011.

"China now leads the world in terms of the numbers of research institutions dedicated to nanotechnology research, research results and relevant applications," said Roco. "By 2020, nanoscience application will be in everyone's lives and not just a marginal research field, which can be accelerated in China."

"China has worked to combine fundamental research with practical applications," said Bai. "The Central Government has established a series of national and international standards, paving the path for the nanotechnology industrialization."

As a unit of length in the metric system, one nanometer is equal to one billionth of a meter; one nanometer to a pingpong ball is like one pingpong ball to the earth.

Twenty years ago, scientists discovered that things from one nanometer to 100 nanometers have very unique physical characteristics. They don't follow the quantum principles of the micro world nor do they conform to the principle of relativity and the Newtonian mechanics of the macro world. Finding a new theory for explaining their activities has become the key subject for nanoscience and technology, which began in the late 1980s.

"Nanoscience and technology is a multidisciplinary and interdisciplinary field for studying characteristics of substances from one nanometer to 100 nanometers and their interactions," said Bai. "Moreover, nanotechnology, information technology and biology have become the three pillars of today's technologies and are also the fastest developing fields."