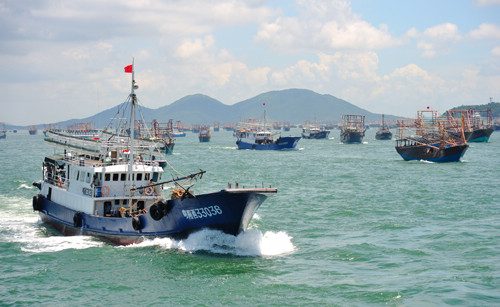 FOR A MISSION: Fishing boats set out to sea from Jiangzhapo Port of south China's Guangdong Province (ZHOU JI)
Anyone who has participated in one of China's Antarctic scientific expeditions will never forget the experience of going through the westerlies.
"Westerly winds prevail in the region. Cyclones come one after another. In the past, we relied on satellite cloud pictures for wind information. Whether the icebreakers could go through the westerlies safely mainly depended on luck," said Jiang Xingwei, Director of the National Satellite Ocean Application Service and chief designer of the HY-2 satellite ground application system.
"But now, with the new oceanographic satellite HY-2, the situation has changed. We have real-time, accurate monitoring of the wind and wave conditions on the sea. Thus vessels can make the best choice in route selection," said Jiang.
The HY-2 satellite is an important part of China's civil spacecraft program. The satellite is used to monitor ocean wind fields, sea levels and temperatures, waves, currents, tides, and storms in order to provide disaster and weather forecasting information.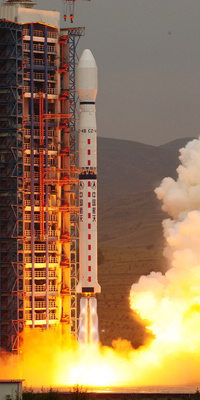 THE BIG BOOM: The HY-2 satellite is launched on August 16, 2011 (COURTESY OF JIANG XINGWEI)
The HY-2, which took China Aerospace Science and Technology Corp. 10 years to develop, is China's first ocean dynamic environmental survey satellite. It was launched at the Taiyuan Satellite Launch Center on August 16, 2011, and was officially put into use by the State Oceanic Administration of China on March 2.
It was another milestone in China's 30-year history of ocean satellite development, said Jiang in Beijing on March 2.
The ocean plays an extremely important role in China's social and economic development and national defense efforts. The Chinese mainland has 10 provinces and municipalities and one autonomous region along the coast. With 13.6 percent of China's territory and 41 percent of its total population, these areas boast more than 60 percent of China's total wealth.
Currently, the coastal areas are facing prominent challenges in terms of sustainable development of resources. More than 40 Chinese in-shore fisheries are suffering from over-fishing.
The environmental information provided by the HY-2 satellite can inform people of the seasonal changes and the specific layout of fisheries far away from the shore. Thus it can serve as the basis for the government's fishery policies, said Jiang.
After the United Nations Convention on the Law of the Sea entered into force in 1994, many countries started exploring fisheries in the open seas and oceans. Xu Dezhu, a manager of Rongyuan Fishery Co. Ltd. based in east coastal Shandong Province, said China has 200 boats fishing in the open seas around Fiji. Xu said weather determines when and where they should go fishing in the vast ocean.