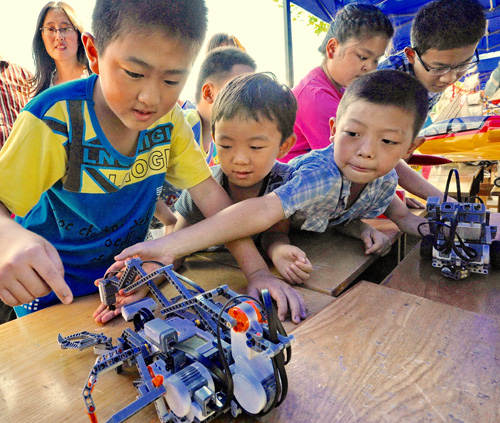 EXPERIENCING SCIENCE: Children in Qinhuangdao City, Hebei Province, watch a performance of model robots on September 14, China's Science Popularization Day (YANG SHIYAO)
Some of China's top scientists say that in the quest to popularize science, the Internet has proved to be a double-edged sword. Web portals, as well as social networking sites, micro-blogs and instant messaging services can facilitate the popularization of science, but they also make the spreading of false information and superstition easier too.
"Currently, the top priority in popularizing science is to fight against false rumors," said Ouyang Ziyuan, a professor of astrochemistry and geochemistry, and the lead scientist in China's lunar probing program.
Ouyang made these remarks during an August 13 meeting in Shanghai between scientists and the media. At the event organized by the China Association for Science and Technology (CAST), scientists of various age groups discussed how science could help to dispel false rumors. Participants warned that online articles about science are sometimes factually incorrect. Even if they are not, they said that a number of readers may not have the patience to finish reading the whole thing and find out the true nature of the situation.
But poor scientific information is only part of the problem: The bigger task is getting young students to like science and consider it a viable career option.
At the age of 78, Ouyang has been engaged in teaching science for several decades. He said, "Popularizing science is as important as doing research. Both are the responsibilities of scientists."
In recent years, Ouyang has visited many small cities to give lectures. "Compared with residents in large cities, residents in counties and towns need more education about proper scientific spirit and thought. Science awareness programs are carried out not only to disseminate scientific knowledge, but also to promote scientific spirit."
To achieve better results, Ouyang has tailored his science popularization lectures to different audiences, such as junior middle school students, high school students, arts students, science students and those who have received little education. He has prepared different versions of manuscripts and slides for them.
Raising awareness
China has attached significant importance to the popularization of science. In June 2002, the country promulgated the Science and Technology Popularization Law, the first of its kind in the world. As part of national efforts to raise citizens' scientific awareness, the State Council, China's cabinet, released an action plan regarding the issue in March 2006, which outlined general guidelines for the next five to 15 years.
Progress has already been made. Many people now have opportunities to expand their scientific knowledge and experience and adapt to the changes that science and technology have brought to them and society. For instance, on June 20, female astronaut Wang Yaping gave a 51-minute lesson from China's space laboratory module Tiangong-1, while it was in orbit around Earth. This is only the second science class ever delivered from space in history. By the end of last year, the CAST had designated 1,048 science popularization bases nationwide.
Despite this progress, China still lags significantly behind developed countries in the degree to which science has been popularized.
Since 1992, the CAST has conducted eight surveys on Chinese citizens' aged 18-69 on their scientific knowledge and awareness. Their questionnaires included frequently asked questions in international studies as well as questions that are relevant to China's specific national condition.
The eighth survey's results were published in 2011. They revealed that in 2010, only 3.27 percent of Chinese citizens possessed any form of basic scientific knowledge. This percentage was comparable to that of Japan, Canada and EU countries in the late 1980s.
"In the 1950s and 60s, almost all children wanted to become scientists, whereas now few would like to become scientists. Rather, they all wish to enter the business sector or civil service," said 93-year-old Shi Changshu, an academic with both the Chinese Academy of Sciences (CAS) and the Chinese Academy of Engineering Sciences. Shi was also the winner of the 2010 State Supreme Science and Technology Award, China's highest and most esteemed national science honor.
"This is the result of poor popularization of science," said Shi. He worried that young people's lack of interest in science will lead to a shortage of scientists and technicians in the future and low overall scientific literacy.