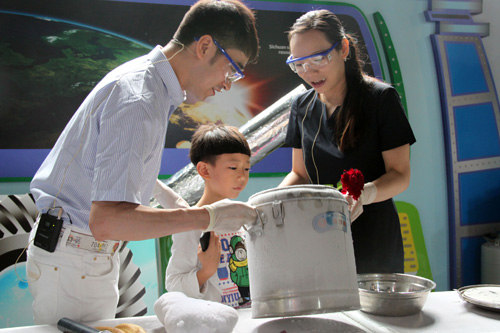 HANDS-ON EXPERIENCE: A child, guided by two scientists, does an experiment with liquid nitrogen at the Sichuan Science and Technology Museum in Chengdu, Sichuan Province, on September 14 (LIU HAI)
The CAST predicted that by 2020, there should be about 4 million people engaging in science popularization, which will be twice as many as those in 2010.
Since last year, six higher learning institutions in China, including Tsinghua University, Beihang University and Zhejiang University, have begun to offer master's programs in science popularization.
Making science easy
Science popularization is to describe science in a simple enough way so that it can be understood by people such as middle school students, said Lin Qun, a 78-year-old mathematician and academician with the CAS.
Lin illustrated this concept through his personal experience. While in a taxi, the driver learned that Lin was going to a mathematics conference and blurted out the number 0.618. The taxi driver learned of the number from a lecture on the golden ratio given by renowned mathematician Hua Luogeng (1910-85) to the general public 40 years ago.
Lin said that the fact that the taxi driver could still remember such a number so clearly after such a long time indicates that science popularization can make a long-term impact. "My dream is to express mathematics with animation, so that the public can understand it without much thinking," Lin said. Lin began to draw picture books on calculus in the 1990s, and he has published several books aiming to popularize calculus.
In addition, to bring science to the general public, scientists and the media should strengthen communication and their understanding of one another, said CAST Chairman Han Qide.
Nonetheless, not all scientists are good at explaining science to the public with simple language.
"It is difficult to invite scientists to interviews or entertaining science popularization programs," said Yang Wei, a producer at Shanghai-based Dragon TV.
Bu Yong, a researcher with the China Science Communication Research Institute under the CAS, admitted that contact between scientists and the mass media is not frequent. He said that it is not only because scientists are busy with research, but more importantly, it is because the two sides do not understand each other well enough.
Bu said that his institute is planning to train scientists on how to communicate with the media and explain research results to the general public.
On March 19, 2011, the CAST launched a science popularization program for journalists called Scientists Meet the Media. So far, more than 30 such meetings have been held, with each themed on a hot topic in society at that time.
More involvement
Currently, a major challenge to China's science popularization efforts is that many scientists are reluctant to participate.
A survey conducted by the China Research Institute for Science Popularization, a non-profit organization, showed that only 16.4 percent of responding scientists are willing to engage in science education programs. Few scientists can get funding for science popularization efforts and furthermore they cannot get a pay raise or ascend in academic rank through popularizing science, Ouyang said.
"Scientists are evaluated by their academic achievements, not by their contribution to the popularization of science," Shi complained. "No organization will give a researcher academic rank because he has published a picture book to popularize science."
In March, more than 100 deputies to the National People's Congress, the national legislature, and members of the National Committee of the Chinese People's Political Consultative Conference, China's top political advisory body, jointly published a letter in China Science Daily, calling for more support for science popularization.
The CAST, the Ministry of Science of Technology and the Ministry of Finance have been exploring the feasibility of including funding for science popularization projects into the national R&D budget, said Xu Yanhao, a CAST official. They will release their findings by the end of the year.
Email us at: tangyuankai@bjreview.com