China, Japan and the Republic of Korea (ROK) formed a tripartite partnership on Saturday to tackle the global financial crisis, Premier Wen Jiabao said after a historic three-way meeting in Fukuoka, Japan.
 .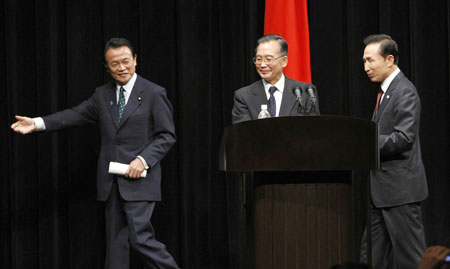 Japan's Prime Minister Taro Aso (L), Chinese Premier Wen Jiabao (C) and South Korea's President Lee Myung-bak leave a joint news conference after their talks at Kyushu National Museum in Dazaifu, southern Japan December 13, 2008. [Agencies]
"We (China, Japan and ROK) are important economic players in Asia and the world, and we must strive to respond to the once-in-a-century crisis," Wen said at a joint press conference with Japanese Prime Minister Taro Aso and ROK President Lee Myung-bak.
The three neighbors, which together account for 75 percent of the East Asian economy, came together for the first time away from a Southeast Asian meeting.
In a joint statement, the three leaders said they expected Asia to "play a role as the center of world economic growth to reverse the downward trend of the world economy".
The three countries vowed to push domestic demand, infrastructure projects and a regional web of trilateral currency swap deals, while trying to avoid imposing new barriers on investment or trade for a year.
In a meeting with Wen ahead of the summit, Lee said the $26.3-billion currency swap agreement between the central banks of China and the ROK is an important step toward tackling the financial crisis.
This is the first such deal China has signed with a foreign central bank.
By taking concrete measures, China have exhibited their responsible approach to cope with the financial crisis with its neighbors , Lee said.
The agreement will provide the ROK with more liquidity to help stabilize its currency.
The ROK won has declined 32 percent against the dollar this year because of a record sale of the ROK's stocks by foreign investors, and its currency reserves shrank.
The Bank of Korea announced a similar deal, worth $20 billion, with Japan last Friday.
The agreements were confirmed in the joint declaration issued on Saturday.
"We should have had this kind of a summit sooner," Aso said.
The three leaders decided to make the trilateral summit an annual event to strengthen cooperation, and China will host the next meeting in 2009.
It is "significant" the three countries are putting aside historical disputes and working together to move forward, AP quoted an unnamed Japanese official as having said.
Liu Jiangyong, a senior expert in Japanese studies at Tsinghua University, said the trilateral partnership reflected the three countries' determination to take concrete steps to tackle the crisis.
Beijing had earlier announced a comprehensive cooperative partnership with Seoul, and a strategic and mutually beneficial relationship with Tokyo. But this is the first trilateral partnership.
(China Daily December 15, 2008)