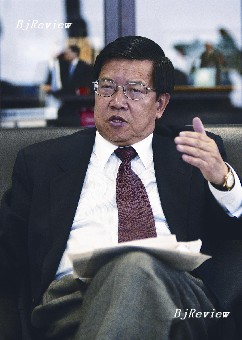 Beijing Review: China originally hoped to transform itself by joining the World Trade Organization, but now many experts say it is making an enormous impact on the world as a huge trade body. Would you comment on this?
Long Yongtu: China is changing the world, but its impact is restricted to certain areas. Actually, China shouldn't overestimate itself, as it still needs to improve in terms of its economic system, social ethics and legal environment. Moreover, China needs to open further to the outside world and abide by international rules.
You were quoted as saying that China should have a new strategy in place five years after it joins the WTO. Why is that?
As we all know, the five-year transitional period for China's entry into the WTO comes to an end at the close of 2006. I am now concerned that people may think that all is in order after it fulfills its main commitments and obligations to the WTO, and that China will no longer need to open up to the international community. I think we should regard China's entry into the WTO as only a stage during its opening and reform campaign, and continue with reform in every sector. This way we can maintain our global competitive edge.
China is advocating "independent innovation." Does this mean China would close the doors on its opening and reform campaign?
No, not at all. China's independent innovation means it will strengthen research and development of the technology that is presently non-existent both domestically and internationally and existing technology that other countries would not like to share. Technologies that can be bought at a reasonable cost will allow China to exchange ideas with other countries and tailor its innovation to suit local conditions.
Big multinationals have moved or are moving their manufacturing bases into China, making it the world's factory. Some say China is exploited by multinationals as it is at the low end of the production chain and makes the least profit. How do you think Chinese enterprises should deal with this?
China forms part of the production chain of many industries in the world. This mirrors the close relationship between China and the world. Due to an imbalance in its economic development, China currently concentrates its manufacturing on low added value goods and technology. This focus should shift to core products with state-of-the-art technology and high added values assisting the country to become a key part of the global production chain.
The theme of the Boao Forum of Asia this year is "New Opportunities of Asia." What do you think these opportunities are?
There are many. At present, global mergers and acquisitions are running high, energy problems are the focus of attention and global investment is also eyeing Asian enterprises. The forum this year will concentrate on these topics and search for new opportunities for Asia's economic development. For example, if the Doha Round of trade negotiations is successful, more business and trade opportunities around the world will crop up. Energy cooperation is widespread among China, India, Japan and Iran. China's opening in the financial and banking sectors also means opportunities for Asia and the rest of the world.
As a Chinese secretary general of the forum, do you aim to bring a more international flavor to this event?
Yes, China is the host of Boao Forum, but its directors are from all parts of the world. If the Boao forum wants to continue to prosper in the future, it should maintain an international flavor and let the multi- national board of directors play a more important role.
The Boao Forum has been held successfully for five years. Observers say your personality has had a lot to do with the success of the forum. Would you agree?
The success of the Boao Forum depends on China's economic rise and Asia's take-off, which now plays an increasingly important role in global development. Of course, I have a unique role to play and I can use my influence to encourage important guest speakers to attend. Guest speakers are, after all, the key to the success of any forum.