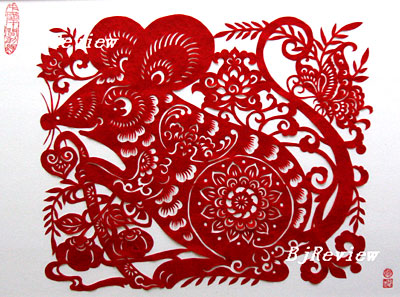 Do you know what your Chinese sign of the zodiac is? According to Chinese lunar calendar, every year corresponds to one of twelve animals (rat, ox, tiger, rabbit, dragon, snake, horse, goat, monkey, rooster, dog and pig) and these are used to identify the year. In Chinese this identification of one's birth year and sign is known as ben ming nian.
After the Lunar New Year in 2008 we enter rat year. All those born in 1996, 1984, 1972, 1960, 1948, 1936 or 1924, also have a rat as their sign.
But why is the ben ming nian so special to people compared with other years? Here Liu Lian shares some of the background about the Chinese zodiac in an effort to help readers better understand this ancient tradition.
Chinese and Their Ben Ming Nian
In the traditional Chinese lunar calendar, years are recorded by a system that is composed of a combination of the 10 Heaven Stems and 12 Earth Branches. Given this, every person will encounter the year that corresponds with his (or her) year of birth once every 12 years. This is known as ben ming nian.
Ben ming nian is very part of Chinese life. Different animal signs are believed to carry different meanings by Chinese, in much the same way as the Western horoscope. Many young couples in China would choose special animal signs for their coming babies. For example, the pig represents wealth, so this is why the number of the babies born in 2007, year of pig, was greater than that in other years.
In the traditional concept, life is viewed in groups of 12 years. At the age of 12 a child grows up into the adolescence; at 24 is a time that a person enters society for the first time; at 36 means maturity of a person; at 48 should be a year that one has accomplished something; at 60 is the time of retirement; at 72 one should enjoy old age; and if a person lives to the age of 84 or 96, every day they pass is an unexpected blessing. Anyone who is lucky enough to celebrate his (or her) 9th or 10th ben ming nian, will see it as a miracle of life.
So, how to deal with ben ming nian is very important to Chinese, especially in the past. Actually, Chinese people look upon the ben ming nian as an unlucky encounter as many believe that they may meet setbacks during this time and the year is a big barrier in their lives. There is a fear that things may not go according to plan in the year.
To avoid anything unhappy taking place, people may resort to conventions that have been passed down through the generations, one of which is to wear or use something red. This practice originated in the worship of the color red in Chinese culture. In China, red carries an atmosphere of happiness, success, loyalty, courage and justice. In ancient times, during a wedding ceremony the bride would sit in a red carriage, wear a red wedding dress and the houses of the two families would be decorated in red, including red carpet, red lanterns and red candles.